On Android smartphones, it is possible to prevent apps from using data in the background. A setting that saves significant battery power. We explain how to proceed.
There is a simple trick as pie that can save battery life on your Android smartphone. By default, your apps refresh in the background using mobile data when WiFi isn't available. But you can totally prevent them from updating this way. You will then save data while improving the endurance of your device.
Unless you have them open, however, your apps will no longer send you notifications if you restrict data usage. This can be annoying for instant messaging applications like WhatsApp. Fortunately, it is possible to configure exceptions that will have the privilege of being able to exploit your data whenever they want. We will explain it all step by step in this tutorial.
Read > 6 common errors that weaken your poor smartphone
Android: how to restrict background data usage?
Here are the steps to follow to make this setting. Note that these may vary slightly depending on your version of Android and your overlay.
Open them Settingsheading Connexions.
Go to the section Data usage.
Click on Data economy.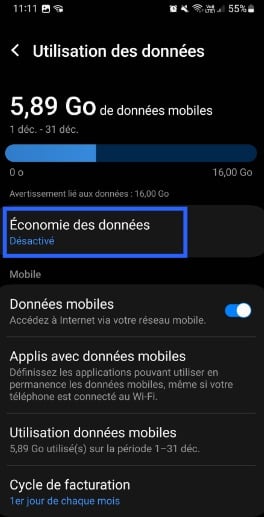 Flip the switch to activate the function.
From now on, applications will no longer be able to use data in the background.
To configure exceptions, simply touch the tab Data usage allowed when data saver is on.
You will then be free to grant permissions to the apps you need the notifications from.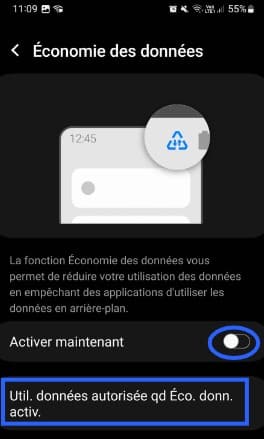 These manipulations should allow your battery to last longer. And to get even more stamina, you can always dim the screen and turn off Bluetooth when you don't need it.
For the record, there are a myriad of tricks to optimize your smartphone. On Android, activating developer mode notably gives you access to unsuspected additional functions. In addition, a hidden menu lets you know the health status of your battery.