Placing a fake job advertisement to obtain highly sensitive personal data? This case appeared on Indeed or LinkedIn. Example with Kwantic whose identity was easily usurped to deceive a hundred candidates.
"I had taken out the champagne, I was very happy because for me it was the perfect position, I projected myself".
The disappointment was immense for Virginie (the first name has been changed), a 30-year-old working in the Web, who like many others was deceived by a real-fake job ad on professional social networks. A well-crafted scam that has claimed dozens of victims.
The tech sector knows, as we know, fortes tensions in recruitment. There are many job advertisements on Indeed or LinkedIn.
To attract scammers. The idea? Placing a fake ad to obtain candidates' very sensitive personal data. How? By usurping the name of a well-known company and its leaders, and taking advantage of the biases of these social networks.
Well established scam
The scam is actually well established. The scammer posts on several professional social networks an attractive job offer (salary, working conditions), well written using the correct company information (which can be found on commercial register sites) and offering multiple positions.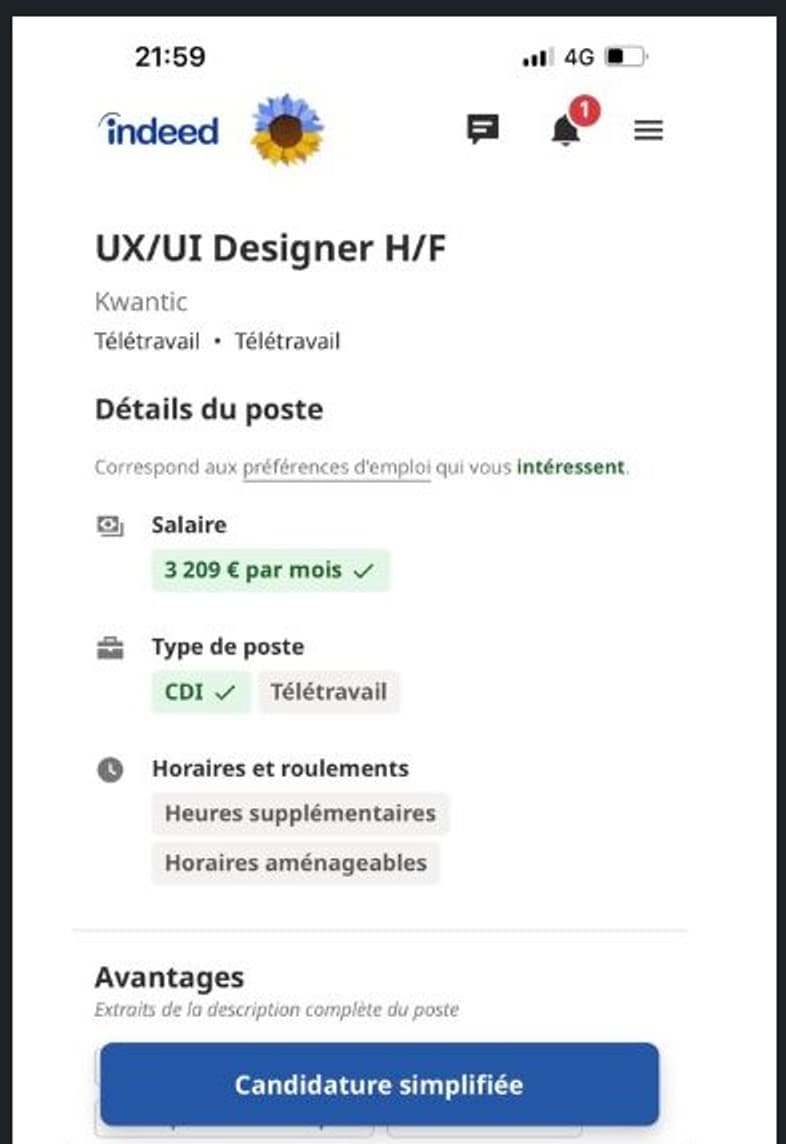 "I spotted this ad on Indeed on November 20, continues Virginie. I quickly positioned myself because this offer ticked all the boxes for me. I send CV, portfolio and cover letter. A few days later, I receive a fairly crude email telling me that my application has been selected and that I have been invited to a telephone meeting. Apart from the somewhat familiar tone of the email, I suspect nothing".
However, the young woman inquires about the company that is recruiting, the names of the managers, everything seems to fit: "nothing suspicious, apart from the address of the general manager in Gmail".
The company that "recruits" is Kwantic, a web agency specializing in particular in the development of mobile applications and user interfaces.
The telephone interview took place as planned, "with boat-related questions, not very technical, rather general. But the person was aware of the market, of the competition. He played the 'small family business' card with a friendly, s "expressed well, it gives confidence. I told myself that the technical tests would be for later. At no time did I say to myself, it's a scam despite an interview that was ultimately quite short", continues the mother of the family. .
False employment contract and gifts
A few days later, that's the good news, Virginie, like dozens of others, receives by email a permanent contract to be signed, including the company's information (siret number, share capital, etc.), signed at name of Benjamin Quéroy, Managing Director at Kwantic.
The letter accompanying the contract is well written, congratulating the candidate, promising him mountains and wonders (like a MacBook pro computer), and fixing a physical appointment at the company's premises to finalize the recruitment and "meet the teams" . The icing on the cake, his travel expenses will be reimbursed.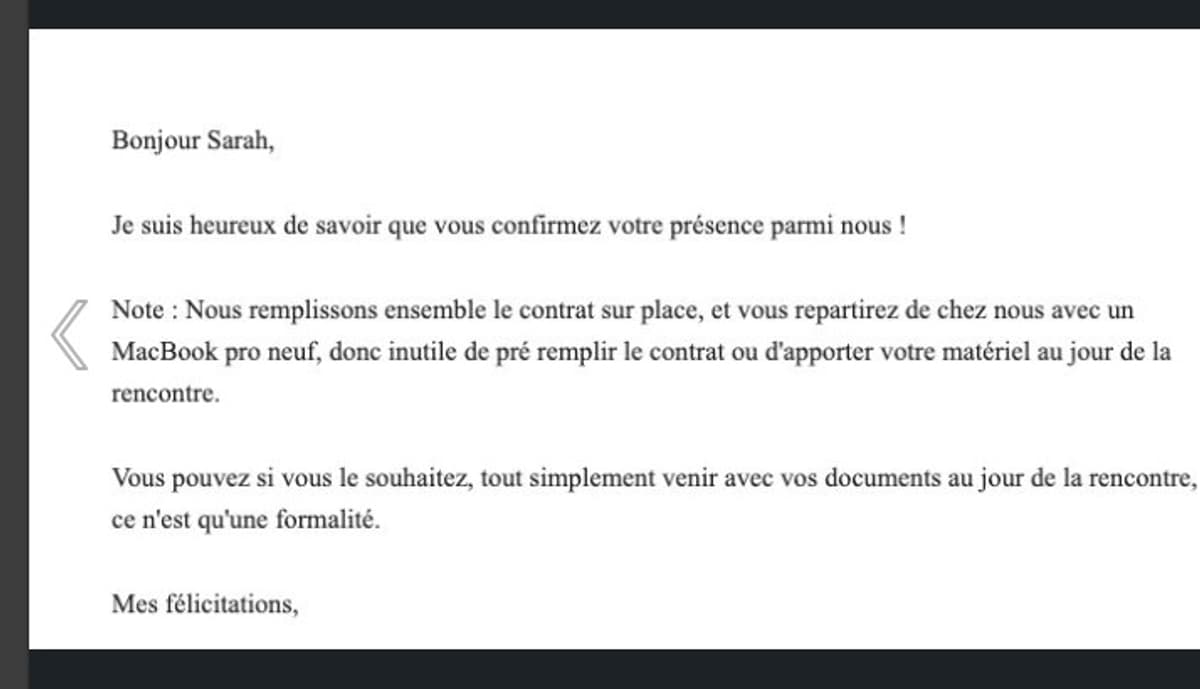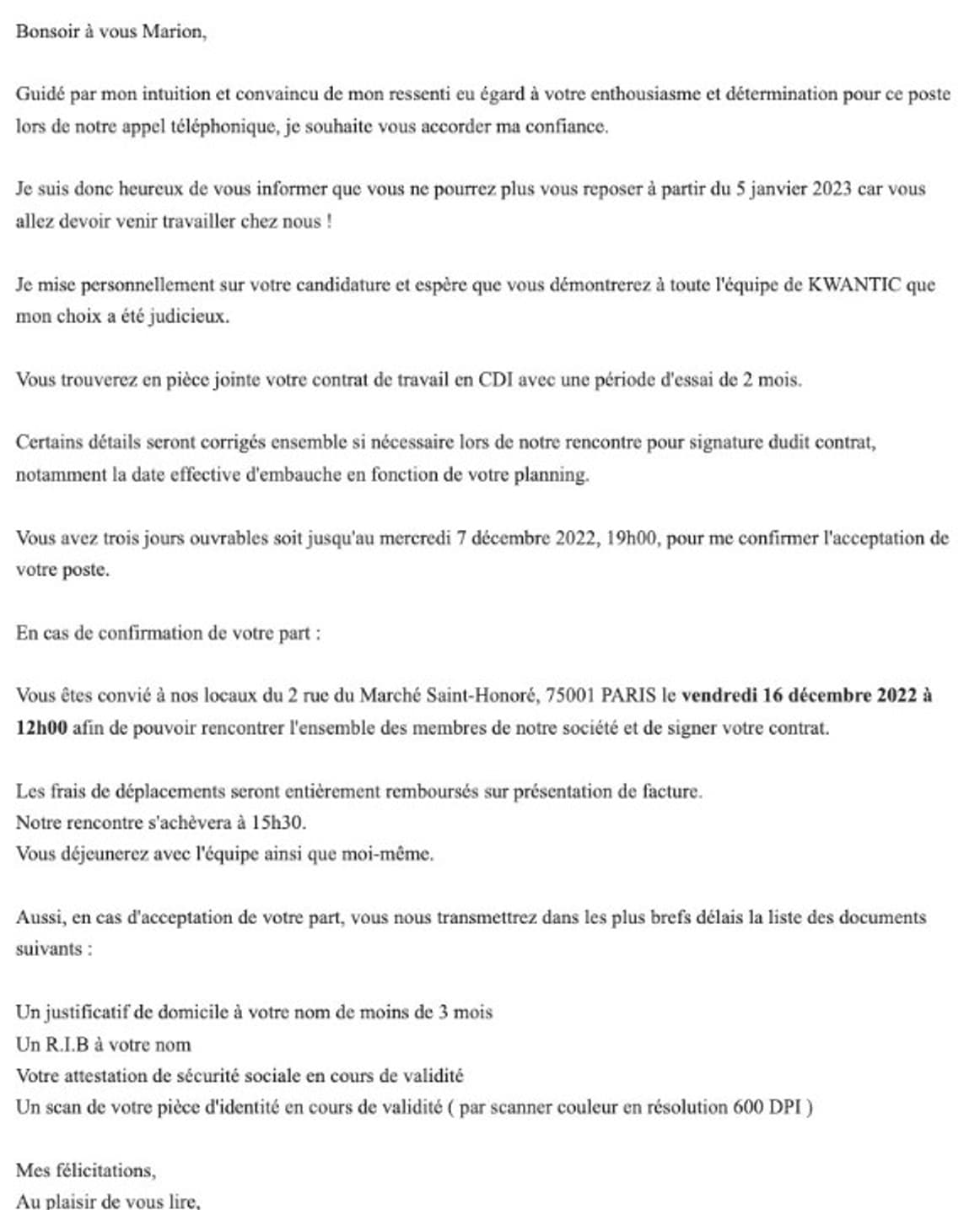 But before that, the company obviously needs personal data such as a photocopy of the identity card, the social security number, a RIB to prepare the file of the future recruit. Here is the scam.
"Bingo, I answer very happy. I check again, everything stuck, at no time am I suspicious, these are documents that are always requested by human resources", laments Virginie.
"I sent everything and I was not aware of anything until I came across Stéphane's post," she continues.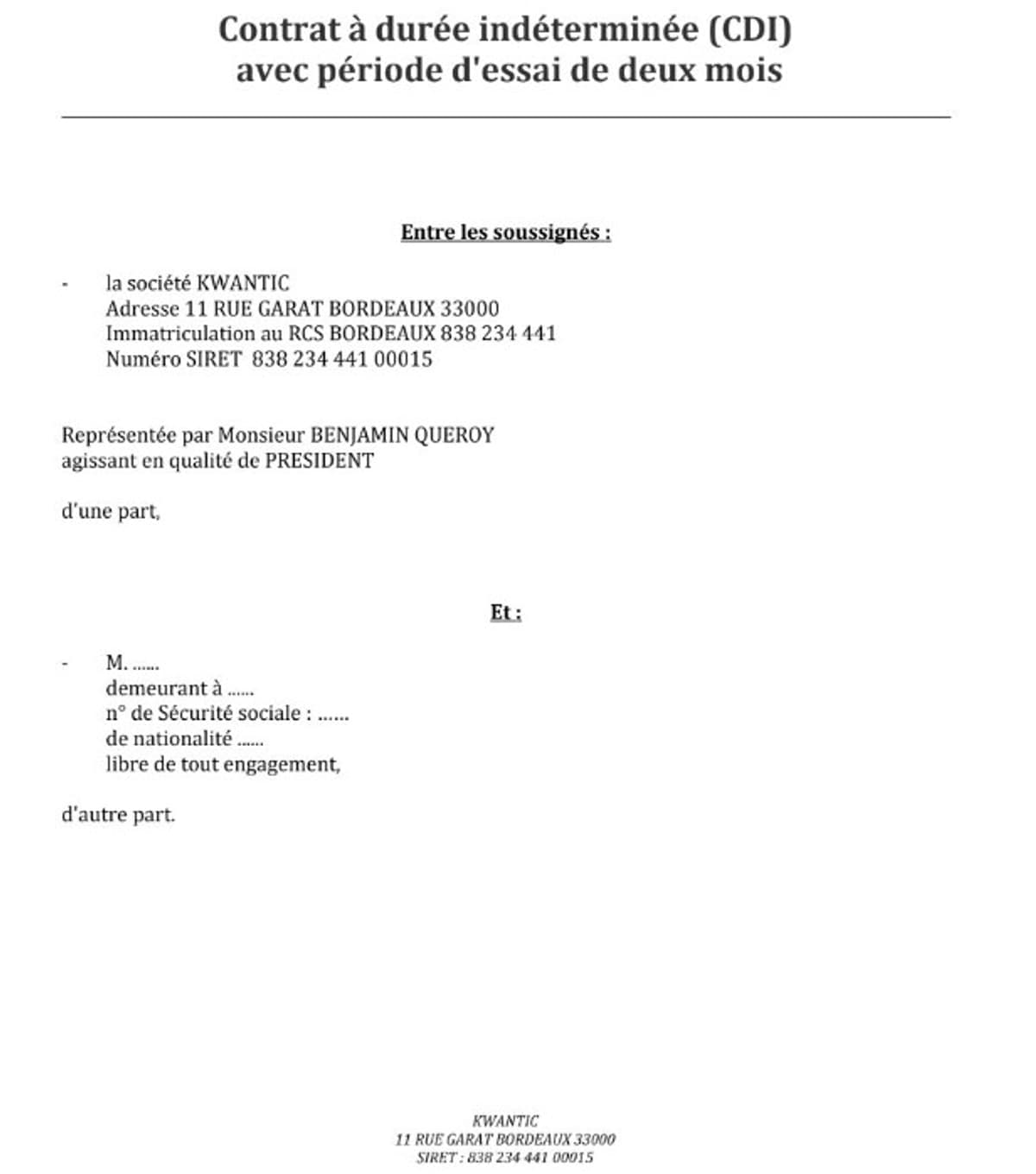 Kwantic (the real company) realizes that something is wrong by receiving calls from people allegedly hired following this announcement and asking for additional information. Problem, the agency has never published such an announcement.
"Today, we are trying to warn everyone about this affair to prevent it from happening again. The problem is not to see people downstairs but that so many people are cheated, spend money money to go to a false appointment, thinking to have landed a great job", laments Stéphane Cathers, Co-founder of Kwantic who multiplies the alerts on Facebook in particular.
"The consequences can be dramatic"
"A person even contacted me telling me that she was going to resign from her current position to come to our house, among these people, some have children, others credits, the consequences can be dramatic," he explains. he at BFM Business.
The scammer knows the sector, the usurped company, the needs of the market and knows how to reassure the candidate (generally young, provincial and inexperienced). He indicates that "with the lack of profiles currently on the market, he recruits without constraint and that your profile corresponds perfectly, and for more junior profiles, internal training will be planned to improve their skills" continues the manager.
"It's very well done because they push the candidates to go quickly, to validate the true-false recruitment and to obtain these personal documents. It's a manipulation very well done", laments the boss.
The worst being that the crook or crooks give a false appointment to the victims "at your place on your premises. In our case, everyone was invited to come and visit us on December 16", explains Stéphane Cathers.
Not an isolated case
"In other letters, they even gave my personal address which is that of the company's head office, it's incredible, explains the manager. Candidates started calling us, mainly from the provinces. We warned them but we didn't get them all. Others may come for nothing. The advertisements disappeared but from what we saw, at least 130 people applied, 20 contacted me".
For Stéphane Cathers, this case is not an isolated case. The difference may be in the sophistication of the scam: good information, reassuring telephone exchange, names of known people usurped.
"We are trying to warn everyone through social networks of this affair to prevent it from happening again and above all to warn that there is no announcement or appointment on December 16", repeats the entrepreneur.
"We see similar scams on leboncoin, which nevertheless fights vigorously against this scourge" adds the manager. But obviously, on professional social networks, "anyone can post an ad on behalf of a company without verification", regrets Stéphane Cathers who has not had any feedback from Linkedin following his requests.
In the meantime, the officer has filed against X and advises all aggrieved applicants to do the same.
What checks on professional social networks?
Because the risk of exploitation of this personal data is real (opening of bank account, credit subscription, identity theft…). The problem is that they were transmitted without coercion or piracy.
"I wanted to file a complaint but for the moment as there is no offense constituted, I was told that it was impossible, I took my precautions but I am very afraid of what could happen" , fears Virginia.
This scam in any case raises the question of the verification of job advertisements posted on these professional social networks.
When asked, Indeed tells BFM Business "to have a dedicated search quality team that goes to great lengths to deploy a variety of techniques to assess the relevance and validity of job postings. Indeed removes every month nearly than 10 million job postings worldwide that do not meet our quality guidelines. We encourage job seekers to report any suspicious job postings to us or, if they feel it necessary, to report it to the police".
In the specific case of this ad, Indeed indicates that it has identified and deleted the ads and associated accounts.
LinkedIn, for its part, explains that it uses "technologies including artificial intelligence and teams of experts to find and remove fake job offers that do not meet our standards. We encourage our members to report any suspicious job offers to us. so we can investigate."
Problem, these controls are organized after the publication of the announcement. Enough to give the scammers enough time to activate their trap before these true-false ads are removed.
Olivier Chicheportiche Journalist BFM Business