Just last year, graphics card prices hit all-time highs due to component shortages and cryptocurrency miners raising their prices accordingly. But recently, this market has seen drastic price drops with the shortage becoming only a memory and mining not being as lucrative as before with the fall of cryptocurrencies. It is therefore quite normal to find the RTX 3060 at only 339.90 euros instead of 389.90 euros at Rue du Commerce, a historically low price.
Nvidia marketed its new RTX 4000 series graphics cards a few months ago, high-powered components, but at an indecent price. No game or consumer machine is yet capable of exploiting them to their limits, so they are of no interest compared to the high-end GPUs of the RTX 3000s. If you don't have the budget and you don't you don't need a lot of power either, you can turn to this RTX 3060 which is currently on sale.
The Nvidia GeForce RTX 3060 in brief
One of the most affordable RTX 3000 series GPUs
To run games in Full HD and even QHD
All the Nvidia benefits
While it can be found between 350 and 400 euros at the main merchants, the GeForce RTX 3060 is now available in its Zotac Twin Edge LHR version on sale at 339.90 euros at Rue du Commerce.
---
If the offer mentioned in this article is no longer available after that, please take a look below to find other promotions for the GeForce RTX 3060. The table is automatically updated.
Where to buy The

Nvidia GeForce RTX 3060 at the best price?
Nvidia's mid-range graphics card
If you're building your PC yourself or just need a new graphics card, this RTX 3060 will do the trick. This version incorporates the characteristics recommended by Nvidia with 3584 CUDA cores clocked at 1320 Mhz and up to 1777 Mhz in boost mode. It also has 12GB of GDDR6 VRAM, a 192-bit interface, and is capable of reaching a maximum power consumption of 200W, although our test could only reach a peak of 170W. even good power.
In terms of connectivity, we have the best with an HDMI 2.1 port allowing 4K 120 FPS gaming as well as three DisplayPort 1.4 ports. Finally, a graphics card worthy of the name must have efficient heat dissipation. Even if it does not deploy as much power as its elders, the RTX 3060 is based on an IceStorm 2.0 cooling system which combines two 90 mm fans and an aluminum heat sink.
A GPU that makes the latest titles accessible in FHD
The RTX 3060 is aimed at demanding gamers, but not too much either. With it, you can play the latest titles in Full HD (1,920 x 1,080 pixels) and even QHD (2,560 x 1,080 pixels) provided you make some compromises on the FPS. We put its performance to the test and even if it logically does worse than the RTX 3060 Ti and the RTX 3070, it does better than the RTX 2070, thus marking a break with the previous generation.
The advantage of an Nvidia graphics card is also the possibility of having access to all the RTX functionalities, namely the ray-tracing which greatly improves the effects of light in terms of its interactions with the environment, reflection and refraction. You also have DLSS which is an artificial intelligence that improves fluidity while maintaining the graphic quality of your game. features are to be used sparingly, because using them all at the same time would be a big blow to the number of FPS.
For even more, read our full review of the Nvidia GeForce RTX 3060.
7 /10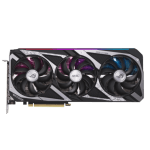 In order to compare the GeForce RTX 3060 with other products in the same category, we invite you now to consult our guide on the best Nvidia and AMD graphics cards of the moment.
---
Do you use Google News (News in France)? You can follow your favorite media. Follow Frandroid on Google News (et Numerama).