The Galaxy Z Fold4 and Z Flip4, new foldable smartphones from Samsung, are available on Rue du Commerce.
Unveiled recently by Samsung, the new Galaxy Z Fold4 and Z Flip4 folding smartphones confirm the manufacturer's position as leader in the market for foldable screen mobiles. These two new generation smartphones are available on Rue du Commerce.
The Galaxy Z Fold4 and Z Flip4 are at Rue du Commerce
Galaxy Z Fold4: a true portable cinema
Offering very high performance thanks to its Qualcomm Snpadragon 8+ Gen1 processor engraved in 4 nm and its 12 GB of RAM, the Galaxy Z Fold4 has a large 7.6-inch foldable screen perfectly suited for multitasking use.
Displaying a comfortable definition of 2176 x 1812 pixels (QXGA+), the Dynamic AMOLED 2x screen of this foldable smartphone benefits from an adaptive refresh rate ranging from 1 Hz to 120 Hz as needed and HDR10+ compatibility. When folded, the Galaxy Z Fold4 has a second 6.2-inch Dynamic AMOLED 2x screen displaying a definition of 2316 x 904 pixels. It also benefits from a variable refresh rate (48-120 Hz).
Samsung has paid particular attention to the photo and video capabilities and performance of its Galaxy Z Fold4. This high-end smartphone has three main lenses: a 50 MPixel (f/1.8) main sensor with optical image stabilization, a 12 MPixel (f/2.2) Ultra Wide Angle lens with an opening angle of 123 ° and a 10 MPixel (f/2.4) telephoto lens with x3 optical zoom. The performance of the Galaxy Z Fold4 also allows capturing video footage up to 8k at 24fps or 4k at 60fps. Two additional 10 MPixel and 4 MPixel selfie cameras are integrated, respectively placed at the level of the external screen and under the internal screen, in order to deal with any eventuality.
The autonomy of the Galaxy Z Fold4 is entrusted to a 4400 mAh battery, compatible with 25W fast charging and wireless charging up to 15W. The smartphone finally benefits from features exclusive to Samsung's One UI overlay, offering fluid interactions and optimal integration with the entire Galaxy ecosystem.
Galaxy Z Flip4 : le smartphone pliable et compact
With its iconic foldable design, the Galaxy Z Flip4 relies more on its small dimensions to seduce, its compactness allowing it to slip easily into your bag or pocket. Once unfolded, it offers a large 6.7-inch Dynamic AMOLED 2x screen displaying an FHD+ definition of 2640 x 1080 pixels, with an adaptive refresh rate varying according to needs from 1 Hz to 120 Hz. Even folded, the Galaxy Z Flip4 remains functional thanks to its external 1.9-inch Super AMOLED screen (260 x 512 pixels). This allows access to quick settings, notifications, widgets, or even Samsung Pay without having to fully unfold your smartphone.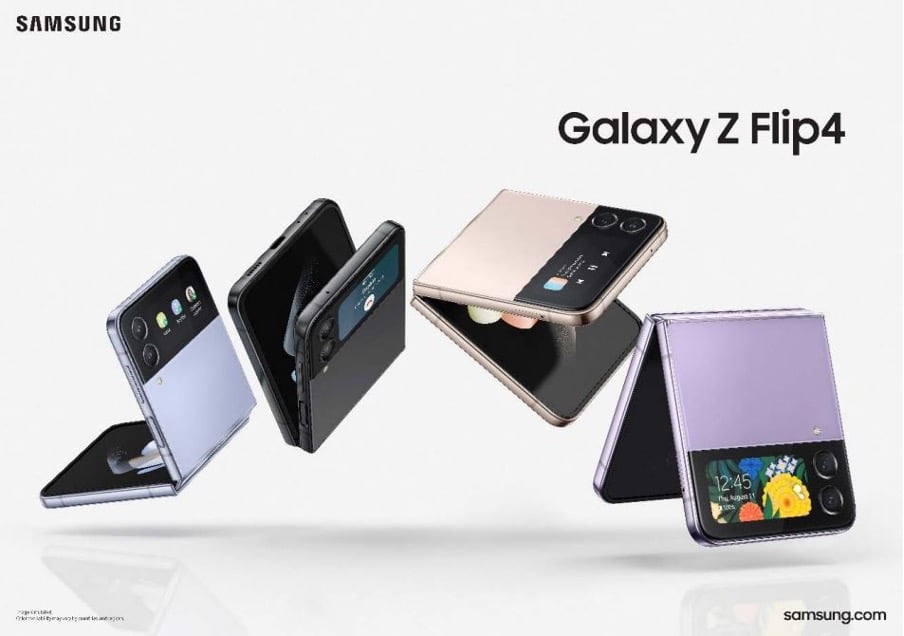 The Galaxy Z Flip4 also benefits from all of Samsung's expertise in photo and video: the foldable smartphone is equipped with a main optic of 12 MPixels (f / 1.8) with auto framing and optical stabilization and a 12 MPixel Ultra Wide Angle lens (f/2.2) with a 123° opening angle. A 10 Mpixel (f / 2.4) lens is provided for selfies, which you can take hands-free by placing the Galaxy Z Flip4 on a support. All these sensors are of course HDR10+ compatible for optimal visual quality.
Inside the Galaxy Z Flip4, there is a Snapdragon 8+ Gen1 associated with 8 GB of RAM, for high-flying performance. The 3700 mAh battery, supporting 25W wired or up to 15W wireless charging, ensures comfortable autonomy. And just like the Galaxy Z Fold4, the Galaxy Z Flip4 will benefit from a minimum of four years of major Android updates and 5 years of security updates, a commitment from Samsung for its high-end smartphones.
Available August 26 at Rue du Commerce
The two foldable smartphones are already available at Rue du Commerce.
The Samsung Galaxy Z Fold4 is available in three colors (Black, Anthracite and Ivory) by Rue du Commerce. The version equipped with 256 GB of storage space is offered at 1799 euros, the model with 512 GB of storage space being displayed at 1919 euros.
The Galaxy Z Flip4 can be ordered from Rue du Commerce in four different colors: Graphite, Lavender, Blue and Rose Gold. This smartphone is available in a 128 GB version of storage space for 1109 euros, or in a 256 GB version for 1169 euros.
The Galaxy Z Fold4 and Z Flip4 are at Rue du Commerce
This article was written in partnership with Rue du Commerce.