Game News Next Horizon game drops its main heroine
Headliner of PS VR 2, Horizon Call of the Mountain will be available on February 22 and the experience is already shaping up to be one of this year's video game markers. But for this spin-off of the famous Guerrilla saga, the developers have chosen to do without the essential Aloy to focus on a brand new character. For this first-person adventure, players will embody a certain Ryas. We tell you more.
Only a few more weeks before getting our hands on the very promising PlayStation VR 2. As the PS5 shortage fades, this all-new VR headset is shaping up to be a major upgrade from its 2016 counterpart. 4K resolution, two OLED screens, refresh rate up to 120 Hz, 110 degree field of vision, gaze tracking, helmet vibration system… launch, promises to be even more immersive with the very promising Horizon : Call of the Mountain. Ryas will be at the heart of this new adventure. But who is he?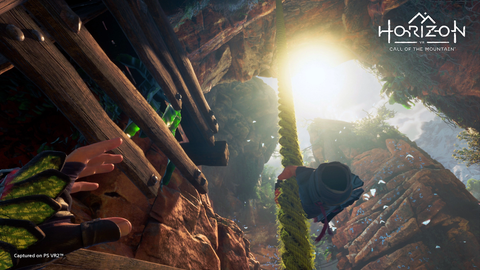 Ryas, sudden soldier of the Carja tribe
Jiran, the Mad Sun King of the Carja, carried out his threat by carrying out bloody raids on neighboring tribes. Hungry for power, the sad character waged an extremely brutal campaign, caring little for sacrifices. Seeing the slaughter delivered by his own father, Avad decided to intervene by overthrowing the ruler. The assaults have ceased, but this sordid event has divided the Carja people, some delighted to see the yoke of the tyrant end, others swearing loyalty to him forever. Ryas, the man that players will embody, is one such soldier. First on the wrong side of the fence, he seeks to repair his faults and now works on behalf of the Sun King Avad. To regain his freedom, this expert climber, archer and hunter must investigate a new threat.
Guerrilla Studio Narrative Director Ben McCaw summarizes:
Ryas ended up on the wrong side for the right reasons. His family was torn apart, and eventually he was incarcerated. This is the story of how he tries to get by. Having fought for the Shadow Carja, Ryas' relationship with these characters is adversarial at best. He must make progress and mend his ways if he hopes to be accepted.
It is therefore a real quest for redemption that owners of PS VR 2 will experience on February 22. Along the way, the brave Ryas will meet new characters and will gradually establish a relationship of trust. Needless to say that the experience, thanks to this technology, promises to be fascinating. With haptic feedback, eye tracking and 4K graphics, Call of the Mountain is shaping up to be an incredible adventure tinged with climbing, hunting and exploration. Never have Horizon's mechanical creatures been so striking!
In less than a month, we will be there!