Microsoft has just released a new version of Bing enriched with ChatGPT. The search engine now has a chatbot that could well revolutionize the way we do research online. Here's how to use it.
Microsoft will invest $10 billion in OpenAI, the father of ChatGPT. The Redmond giant obviously intends to use artificial intelligence to improve its products. With this in mind, Microsoft has just rolled out a new version of Bing where it is possible to submit requests to a chatbot by talking to it as if it were a human being.
Basically, it's an improved version of ChatGPT based on the GPT-3.5 model. Named "Prometheus", it has the ability to draw on the Internet, while ChatGPT is currently limited to a database that stops at the year 2021. The possibilities offered by Bing are therefore legion and could be damned shake up our habits.
ChatGPT on Bing: how to access the new chatbot?
At the moment, the new Bing is being rolled out. On the page presentation, you must register on the waiting list then wait until the tool is available to you (you will be notified by email). A priori, a complete version of the new Bing will arrive during the month of February.
ChatGPT on Bing: how to use it?
Once the chatbot is available, you can ask a question or request a service from Bing directly in the search box on the homepage. By doing so, the interface will split into two:
On the left, you will find the usual search results.
On the right, you will find the summary response to your request in a window dedicated to the chatbot.
If you want more details, it will be possible to ask follow-up questions from this window.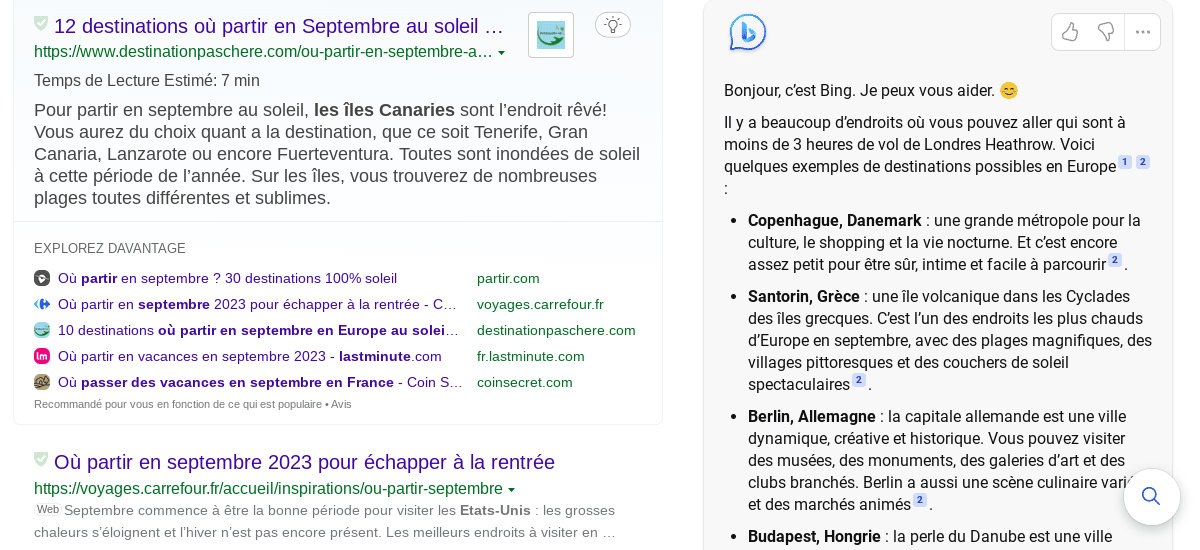 ChatGPT on Bing: what requests to send to it?
The more detail and complexity you give to your query, the more Bing's response will live up to your expectations. Do not hesitate to submit several criteria that will effectively limit its field of research. Here are some examples of tasks that Bing can perform. This list is obviously not exhaustive:
A comparative top-rated electric cars with a range of over 300 km and leather seats.
A menu in three courses for 10 people with eggs as a starter, a piece of meat as a main course and a raspberry cake for dessert.
you code to complete your computer program.
A list unmissable places to visit located less than 20 km from Florence.
Ideas practical work to do as a family using glue, newspaper, paint and cardboard.
A program 30-minute workout consisting of push-ups, sit-ups and squats.
A story about a billionaire who sends his car into space.
A dissertation on the philosophical themes addressed in Star Wars.
ChatGPT on Bing: what are the differences with a traditional search engine?
When you do a classic search, the search engine will show you a list of different links that you can visit separately. The Bing powered by ChatGPT functions will aggregate the information found online to offer you a single text where everything will be summarized. Note that it will also cite its sources so that you can access the links it refers to.
In addition to its ability to generate creative texts (stories, poems, film pitch, etc.), Bing also stands out from a traditional search engine thanks to its conversational robot. You can naturally chat with him to get clarification on a subject by asking him questions as you go.