When we use the Internet, we inevitably leave a digital footprint behind. This data can end up on the dark web and be exploited by malicious individuals. Faced with this scourge, there are several tools like Bitdefender Digital Identity Protection that can identify leaks.
We find everything in the abyss of the Internet where all kinds of traffic are tied. Our personal data is notably resold and shared abundantly by hackers. And for good reason, we leave, voluntarily or not, a slew of digital footprints when we use the Internet. So much so that it is impossible to remember all the information we filled in online. So much data that is likely to end up on the dark web.
To find out if you have been a victim, there are several tools. Bitdefender, known for its security suites, has notably developed Digital Identity Protection (DIP). The publisher describes it as "a digital first aid kit" allowing you to have a global view of your data leaks. DIP also distills advice to help you react in the event of a compromise and to prevent future leaks.
What data do you leave online?
We leave a lot of information online. This digital fingerprint can be split into two distinct groups:
On the one hand, we find active fingerprint which includes all information knowingly shared by the Internet user (information on social networks and forums, cookies accepted, forms to access services, etc.).
On the other, we find passive imprinti.e. data that is diverted without your knowledge (browsing tracking, date broker, service data compromised by hackers, etc.).
This data can unfortunately escape you and end up in the underground Internet.
You are the victim of a data breach, what do you risk?
As the name suggests, your personal data concerns you exclusively. Surname, first name, postal address, vital card number, credit card number, telephone number… As much information as you obviously want to preserve from malicious actions.
A hacker can impersonate you by exploiting banking information intercepted. He will then be able to carry out fraud in shambles.
A hacker risks damaging your reputation by stealing your identity on social networks.
In particular, he will have every opportunity to trick your contacts trying to steal money from them with a false pretense.
The wishes is also to be feared: you risk receiving fraudulent calls from a hacker pretending to be your bank or an official service.
How does Bitdefender Digital Identity Protection work?
Bitdefender has designed a tool called Digital Identity Protection. By monitoring the web and the dark web constantly, it is able to notify you of data leaks that concern you. Once you have subscribed, you can immediately use the service which works exclusively online. You will simply be asked to fill in some essential information:
Nom
First name
E-mail address
Phone number
To verify that you have the correct address and number registered, provisional codes will be sent to you. Once everything is configured, you will arrive on the dashboard (a bit overloaded with information). This will reveal statistics about your digital fingerprints and the data leaks detected by the tool.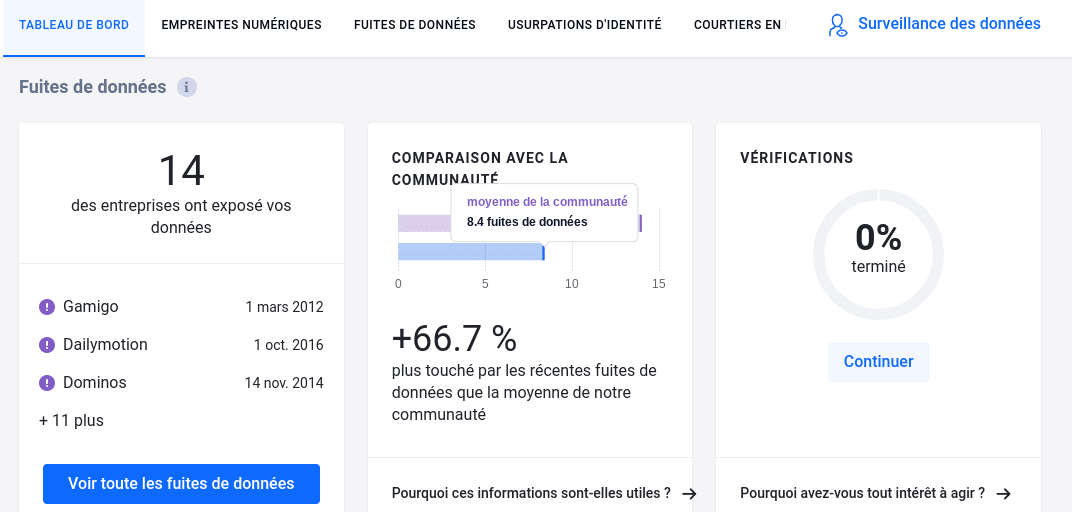 You will then have every opportunity to access the tab Data leaks to find out what sauce you were eaten with. In particular, you will find precise information on the service concerned, the type of data exposed and the date of the leak.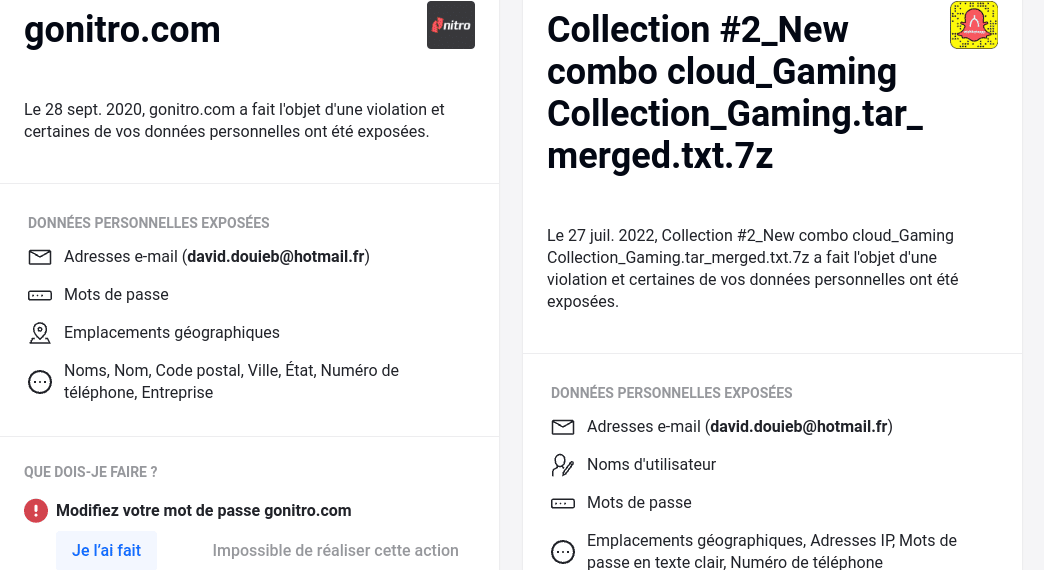 In the event of a compromise, you will be encouraged to change your password and enable two-factor authentication. To save you time, DIP normally includes direct links to change password pages. However, the links were not available during our test, something that can be reported by clicking on Unable to perform this action.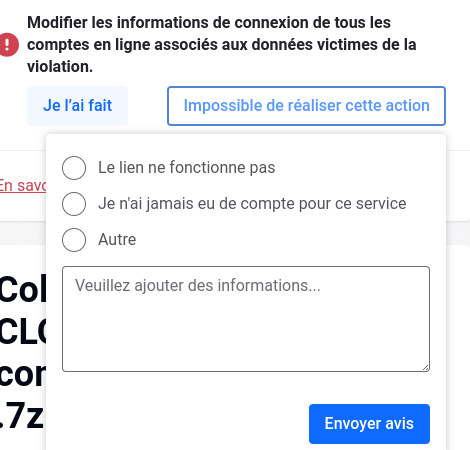 It is advisable to activate alerts by e-mail (blue switch at the top of the interface) to be informed as soon as a data leak is detected by the system.

Moreover, it is possible to monitor potential identity theft by clicking on the corresponding tab. You can click on the links to check if a profile is hijacking your social media identity. Or if it is yours. In case of usurpation, you will have to contact the social network concerned to have the culprit profile deleted.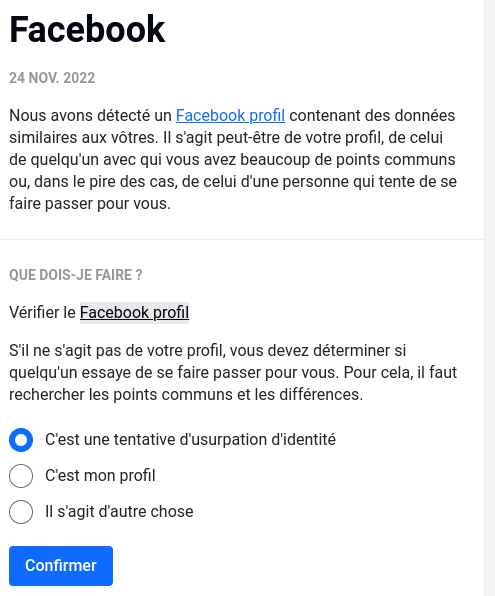 Clicking on Data monitoring at the top right, you can add other e-mail addresses (up to 10) and other phone numbers (up to 5). A way to improve the data monitoring mechanism.

How much does Digital Identity Protection cost?
The monthly subscription costs 6.99 euros per month. Currently, it is possible to benefit from a nice discount of 57% by subscribing annually (i.e. 29,99 euros).
What alternatives?
There are other, more expensive services that offer support and insurance for data breaches and identity theft; something DIP does not do which explains its aggressive pricing.
Reference on the subject, the site Have I Been Pwned checks whether your email address or phone number has been compromised. Run by Troy Hunt, it runs on community contributions. Hence its limited scope. If a database is not sent to him, the compromised data will not come back. During our test, the site detected far fewer data leaks than the Bitdefender tool.
Have I Been Pwned has the advantage of being free. Another good point, it provides contextual information for each leak detected (type of attack carried out, consequences).