Even if you have not communicated it, it is quite possible that Meta has your telephone number in its database. This unsuspected tool allows you to delete it once and for all.
According to the engineers of the platform, Facebook does not know how to manage the data of its users in order to best ensure their confidentiality. Confusing information that might cause you to only provide Meta with the bare minimum. But it is possible that the parent company of Facebook et Instagram has your phone number without your knowledge. And this even if you have chosen not to share it.
Indeed, a user may have loaded his address book including your contact details on Facebook, Messenger or Instagram. Fortunately, it is possible to verify it. And to delete, if necessary, your number from the database before adding it to the blocking list.
To do this, all you have to do is use a tool deployed discreetly in May 2022. At the time, Meta did not communicate on this. Hence the fact that no one had heard of the tool until the specialized press took hold of it.
To read > How to find my Facebook email address?
Facebook, Instagram: how to delete your phone number?
The process is easy as pie. Here are the different steps:
Click on this link to access the tool.
Select the contact information you want to search from Meta's database (mobile number, landline number or email address).
Click on Next.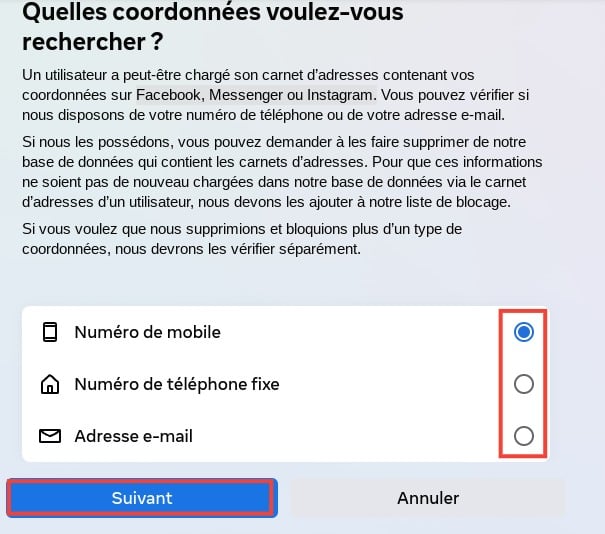 Then enter the number or email address you want Meta to search for.
Select the targeted social networks then click on Next.
You will then receive a confirmation code that you must type in the field dedicated to this purpose.
Meta will then confirm if your number has been uploaded by at least one user via their address book.
Clicking on To confirm, you can remove your number from the database and block any future imports.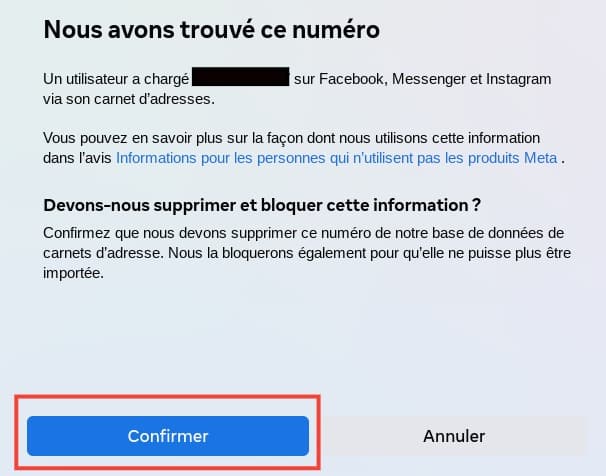 Now you know how to do it! Still in the section of tutorials dedicated to Meta, here is how to change your e-mail and your telephone number associated with your Facebook account.