Waste of time, violation of privacy, uselessness: the criticisms of opponents of Facebook are numerous. However, it is easy to completely unsubscribe from Facebook. Here's how to save your data before slamming the door, how to deactivate or permanently delete your account.
The reasons that can lead to the deletion of his account Facebook are many. Have you found better elsewhere? Or do you no longer want your life to be "spread out" on the Web?
That you are concerned about your online privacy or just want to disconnect from social media, there are two ways to get rid of a Facebook account. You can temporarily deactivate your account or choose to delete it permanently.
so here's a 100% complete user manual to leave Mark Zuckerberg's service once and for all. You will learn how backup and download all your facebook data and how deactivate or delete your accounthow to reactivate it, etc.
Facebook changes its name and becomes Meta, what changes?
🧐 What is the difference between deleting and deactivating a Facebook account?
The biggest difference between deactivating and deleting a Facebook account is that deactivating your Facebook account gives you the possibility to come back whenever you wantwhile deleting your account is a action permanente. If you deactivate it, your Messenger account will remain active, unless you deactivate it from the Messenger app.
💾 How to save your Facebook data before slamming the door?
Before permanently and irreversibly deleting your account, Facebook suggests that you create a backup of all your data stored on their servers. An archive of photos, videos, publications or even messages that you can consult at your leisure once you get rid of your virtual profile.
On a PC or Mac, click your accountat the top right of Facebook (the little down arrow).
Select Settings and privacythen click Settings.
In the left column, click Your Facebook Information.
Beside Download your informationclick on To see.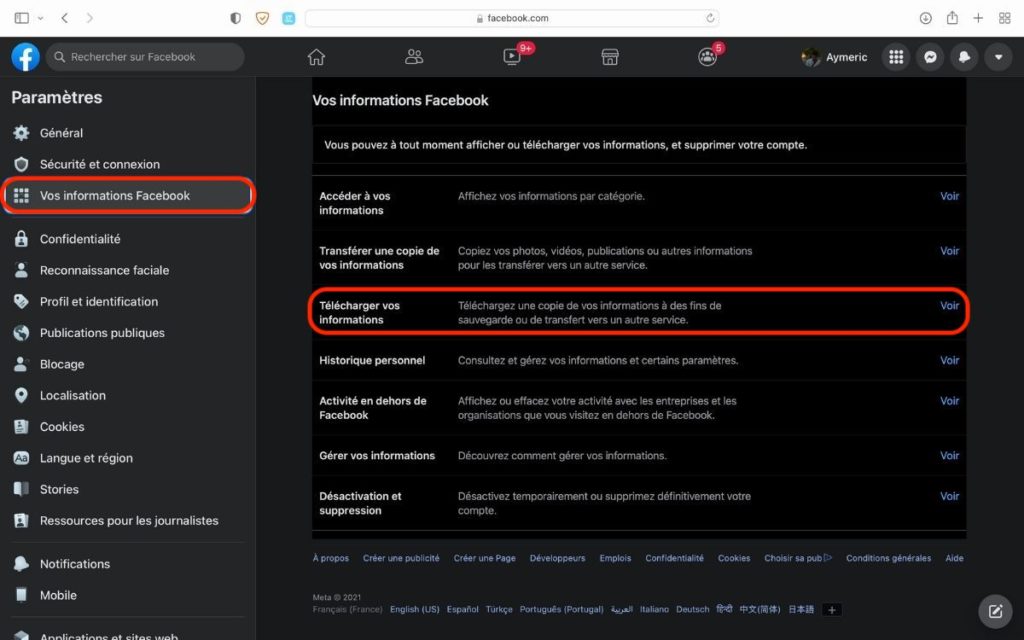 You must select three options: the format of your request download, photo qualityvideos and other types of multimedia content, as well as a specific date range specific to your information. Here we advise you to simply put HTML, High et All the time. It is mandatory to put a period otherwise the download button will be greyed out.
To add or remove categories of data (messages, posts, stories, polls, etc.), in your request, check or uncheck the boxes on the right. We advise you here to leave everything checked.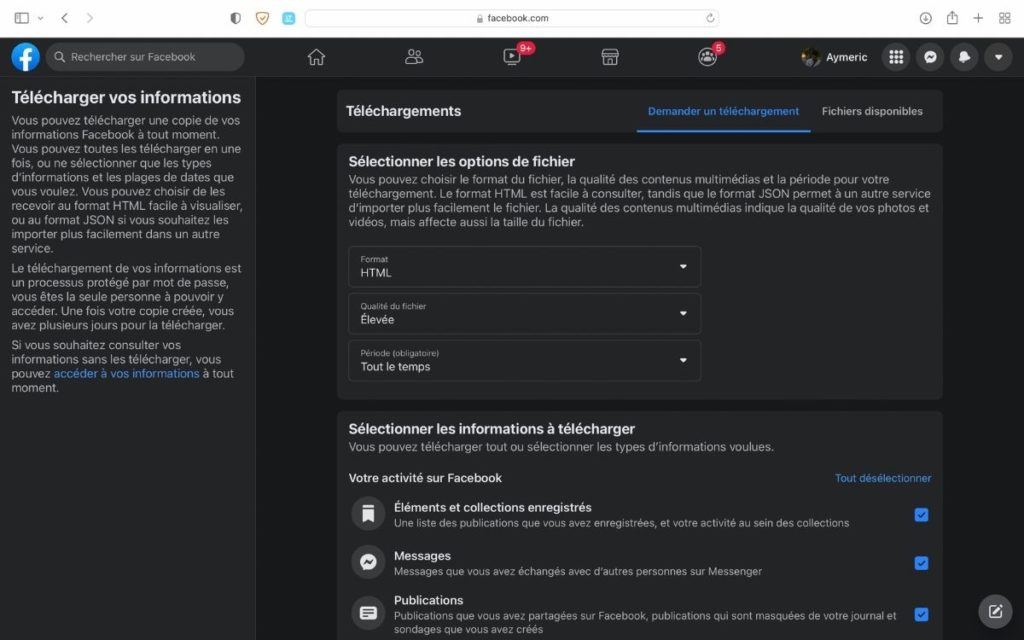 Click on Request a downloadbottom left.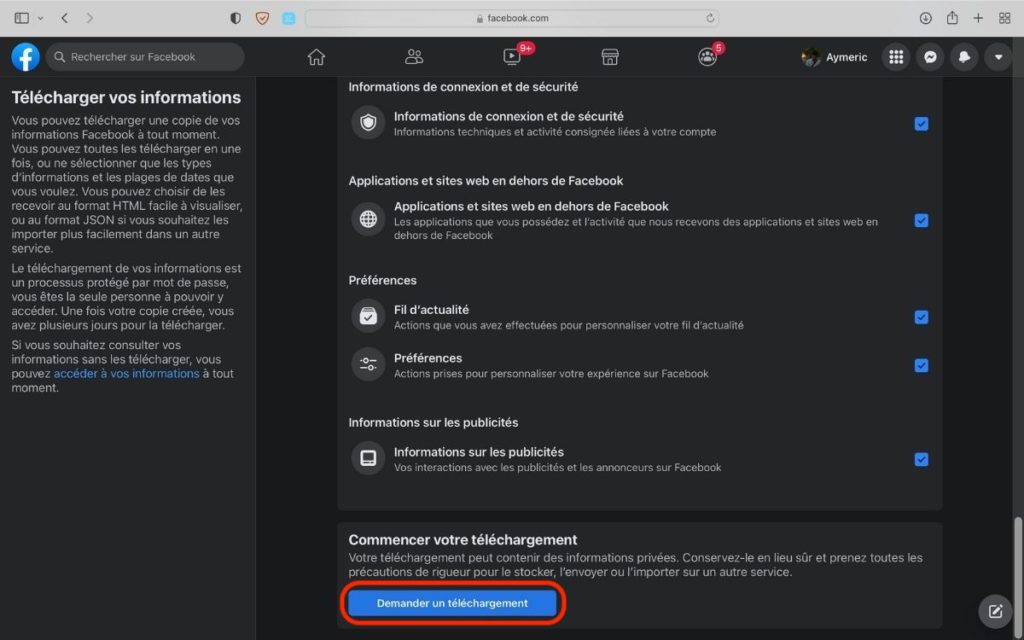 Once the download request has been made, it will appear as Pending in the Available Copies section of the Download Your Information tool.
It may take several days for Facebook to prepare your download request, but the social network should normally send you an email as soon as your files are available. Once the email has been received, you can return to this page and click on Download in category Files available.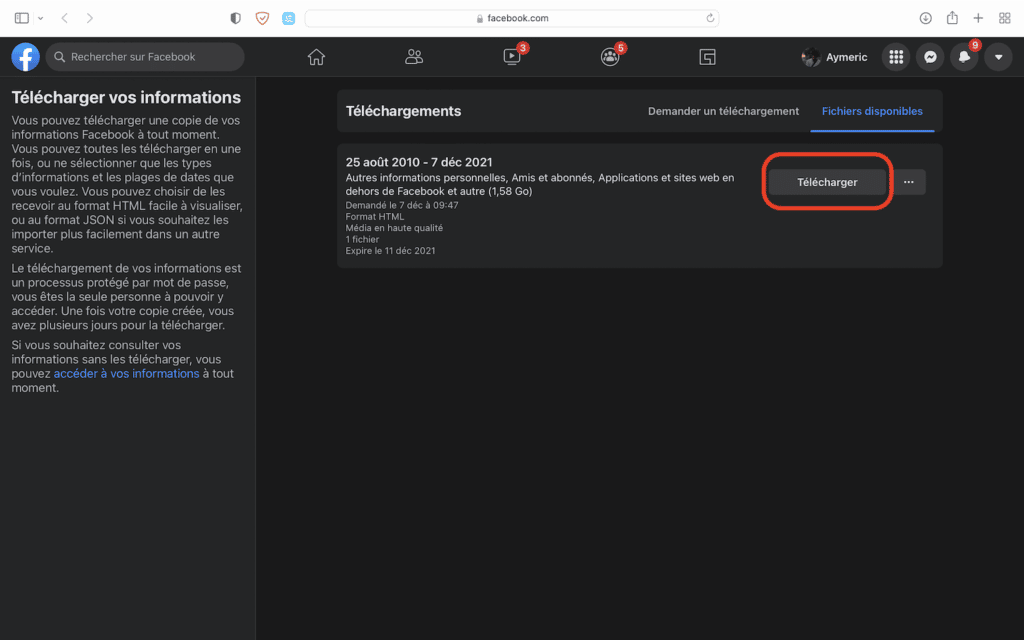 How to protect personal data on Facebook?
❌ How to permanently delete your Facebook account?
Is your Facebook data snug, downloaded to your computer? Good news since you are ready to leave the ship. Roll up your sleeves since you will have to enter the bowels of the site to manage to delete your profile forever.
Log in to Facebook on your browser, on a PC or Mac.
Click on your account top right (down arrow).
Select Settings and privacy in the drop-down menu then go to Settings.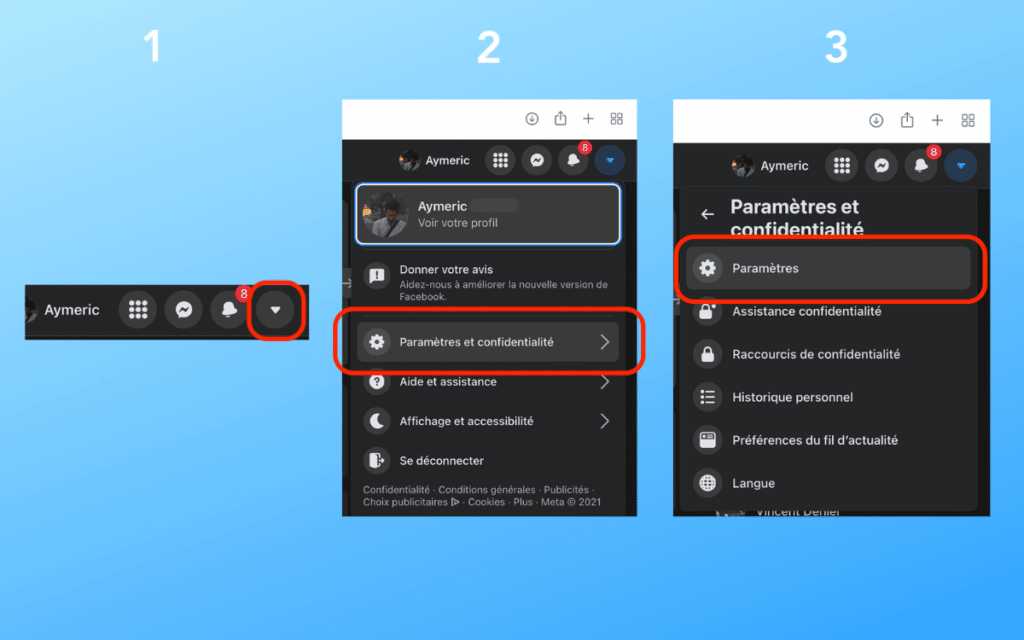 On the left, click Your Facebook Information then select Deactivation and deletion to the right.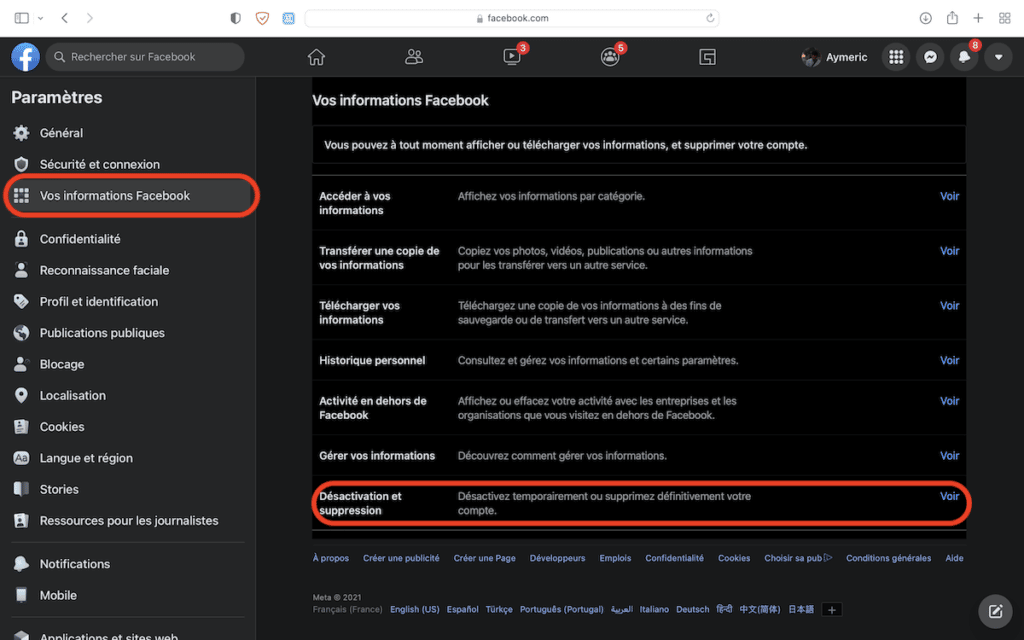 Tick Delete account then click Proceed with account deletion in blue.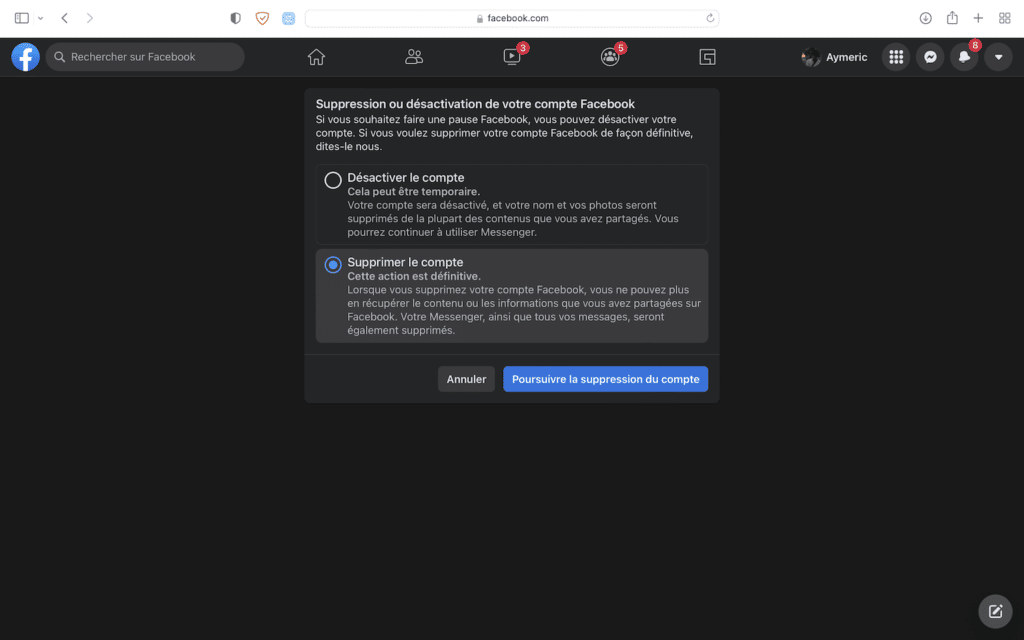 Here, Facebook will offer you to deactivate only Messenger and make sure that you have downloaded your data before leaving. Then confirm by clicking Delete account.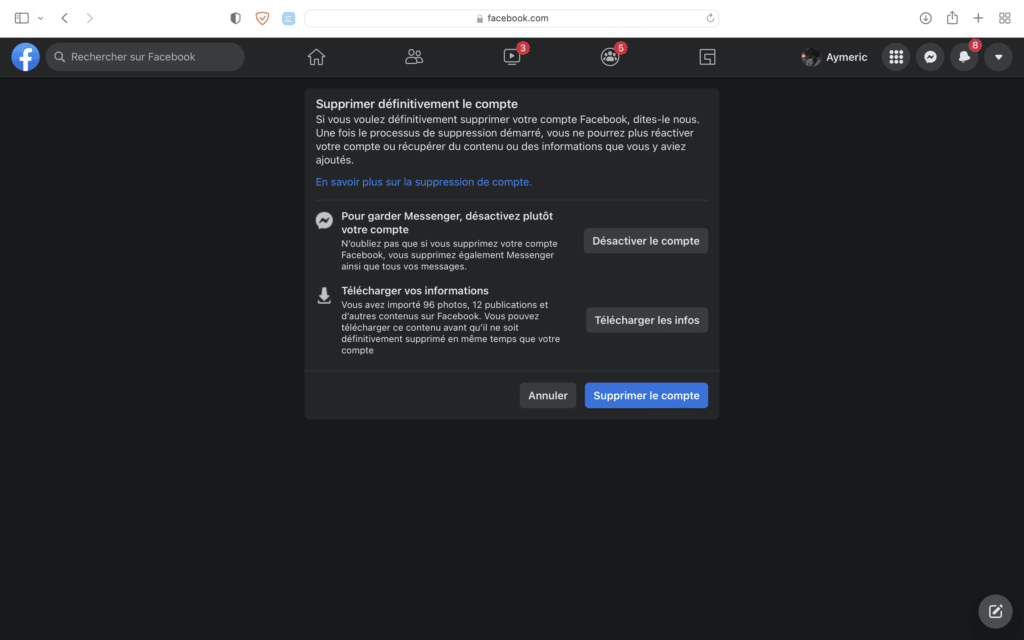 Then let yourself be guided through the final steps. As a reminder, the process can take up to 90 days, so please be patient.
In the same way, be aware that Facebook gives itself the right to keep your data if necessary, according to their CGV : « […] copies of your information may still be in the backup system that allows us to recover your data in the event of a disaster, software error or other event resulting in data loss. In addition, in some cases, we may retain your data for legal issues, violations of our terms and conditions or risk prevention. »
Instagram: how to delete your account while keeping your photos?
🤔 What happens when you permanently delete your Facebook account?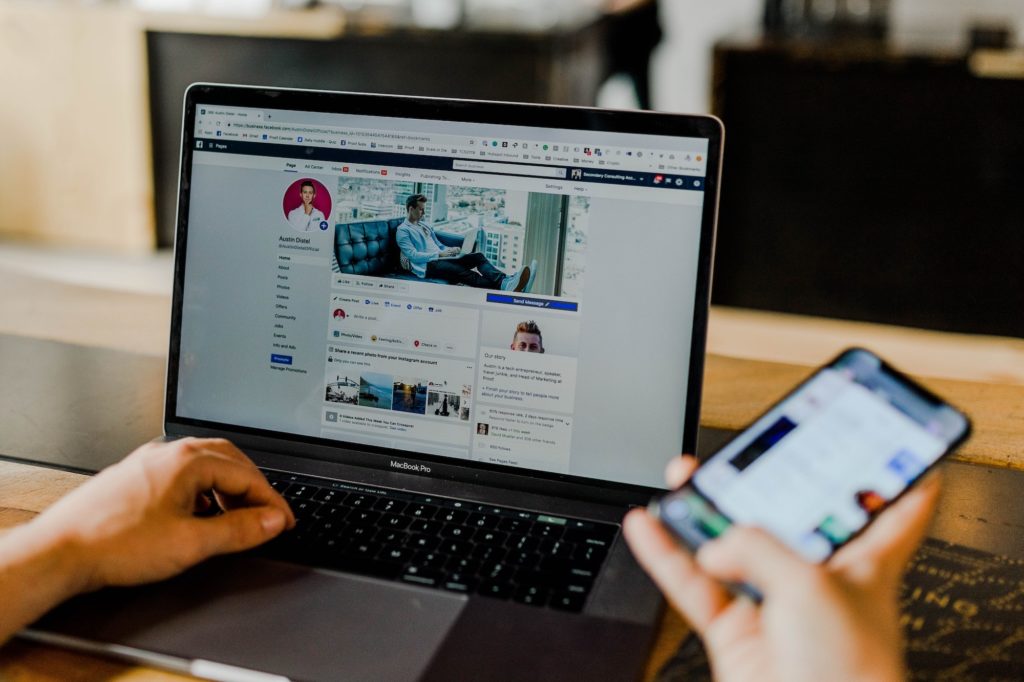 Deleting a Facebook account is set in stone. You will not be able to regain access once the account is deleted and anything associated with the user will be permanently deleted. For this reason, Facebook delays deletion a few days after the request, in case you change your mind. It may take 30 to 90 days after deleting your account so that all your data stored in Facebook's backup systems is completely deleted.
So here's what happens if you delete your Facebook account:
You will no longer be able to reactivate your account (you will have to create another one if necessary).
Any items you've posted will be permanently deleted and you won't be able to recover them unless you've backed them up (see below).
You will no longer be able to use Facebook Messenger.
Facebook Login will be unusable for apps you signed up for with your account, like Spotify or Pinterest. You will therefore have to reconnect to it.
Your Oculus information if you use the group's VR headsets will be deleted.
Pages managed solely by you will also be deleted, consider giving someone else full control of your Page(s) before leaving.
However, and according to Facebook's T&Cs, some informationlike the messages you sent to your friends, can remain visible for these once your account is deleted. Copies of these messages are stored in your friends' mailboxes.
How do you know if someone has blocked you on Facebook?
💻 How to undelete Facebook account?
Did you just delete your Facebook account, but Mark Zuckerberg is eyeing you? Note that you can undelete your account if and only if you started the process less than 30 days ago. After this time, your account and all your information will be permanently deleted, and you will no longer be able to recover it.
To undelete your Facebook account:
Log in to your Facebook account within 30 days of initiating the process to delete your account.
Click on Undelete.
Facebook: how to delete your phone number?
📲 How to deactivate your Facebook account without deleting it?
Tired of Facebook, but not ready to let go? The good news is that you can temporarily deactivate your account and choose to reinstate it whenever you want.
To deactivate your Facebook account:
As for deleting your account, go to your profile (small down arrow in the top right) > Settings > Settings and privacy > Your Facebook information > Deactivation and deletion.
Except here, click Disable Account then on Proceed with account deactivation.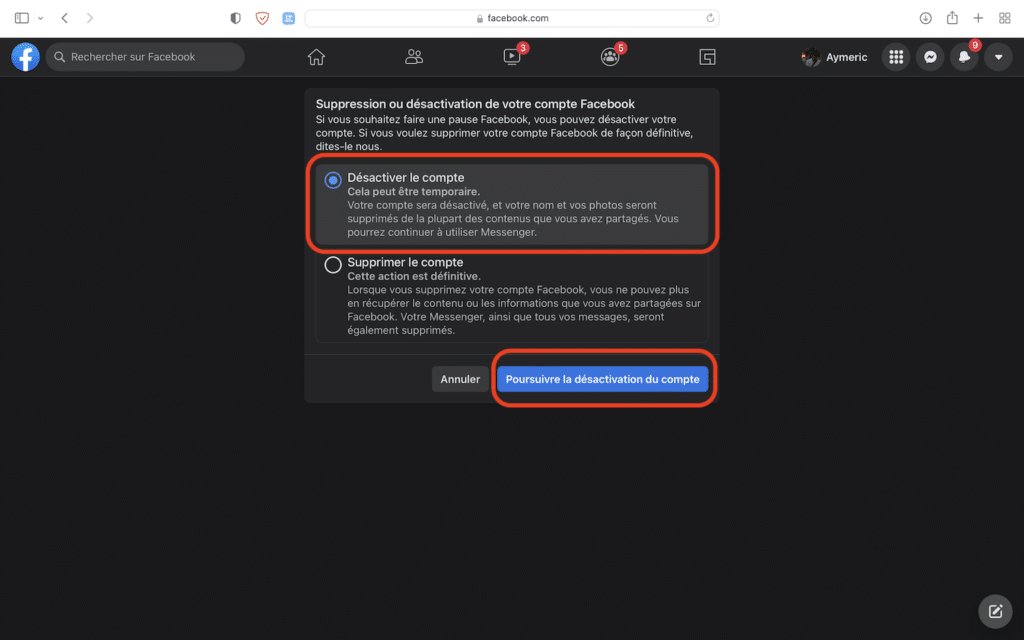 Here, Facebook will ask you for a reason for deactivating your account. Dozens of options are available, it's up to you to check the one that suits you. Facebook will offer you alternatives every time. Finally click on Disable then on Disable Facebook.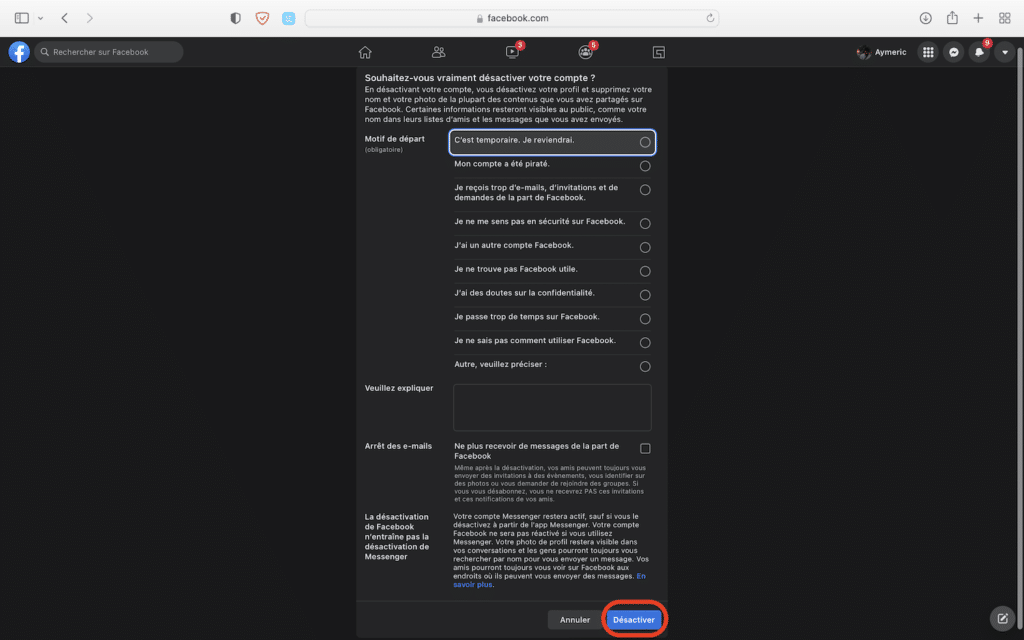 👉 What happens when you deactivate Facebook?
When you deactivate your facebook account, your posts, photos, friends lists, and "about" information are hidden, and other people can no longer find your account. However, some information, such as messages you've sent, remains visible. Facebook saves all your information (friends, posts, photos, interests) in case you choose to come back in the future.
Here's what happens if you turn off Facebook:
No one other than you can see your profile.
Some information, such as messages you've sent to your friends, may remain visible, and your friends may still see your name in their list.
Group admins will still be able to see your posts and comments, as well as your name.
You will no longer be able to use your Facebook account to access Oculus Products or your Oculus information.
Finally, Pages managed solely by you will also be deactivated. If your Page is deactivated, others can't see your Page, or find it if they search for it. So consider giving someone control of your page before deactivating your account.
It is impossible to delete Facebook on some Android smartphones
✅ How do I reactivate my Facebook account if I deactivated it?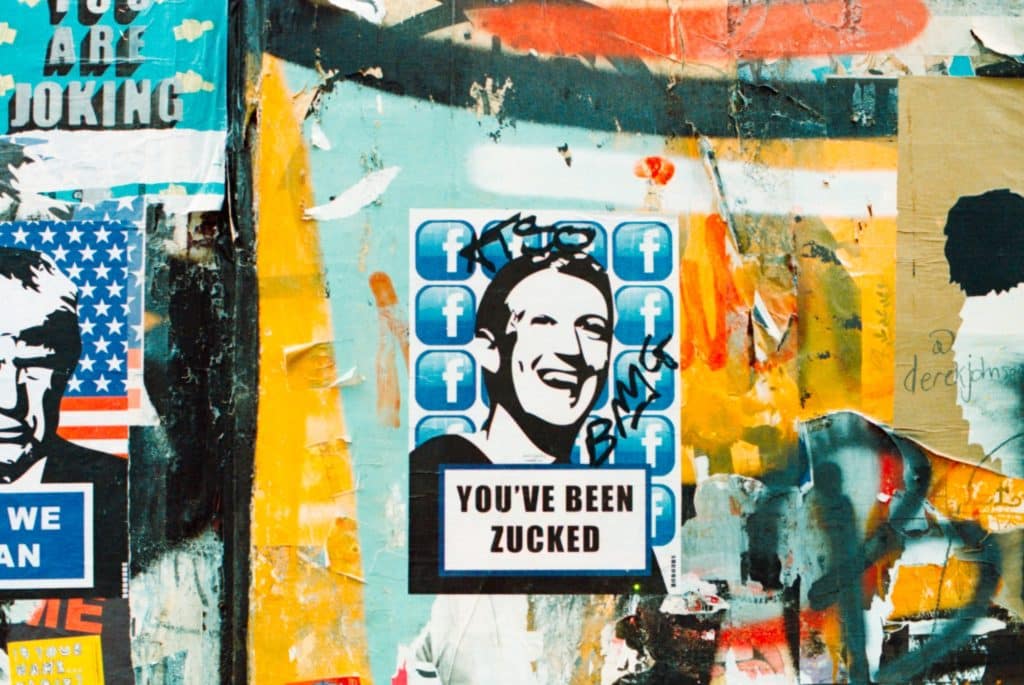 If you want to come back to Facebook after deactivating your account, don't worry since you can reactivate it at any time. Of course, nothing could be simpler: just log in again to your account, either on Facebook or with Facebook Login elsewhere. Remember that in order to complete the reactivation, you must have access to the email address or mobile number you use to log in.