On Android, it is possible to access a hidden menu that contains a myriad of options for your smartphone. This is the famous developer mode which must however be handled with caution. We explain how to activate it.
If you have an Android smartphone, you have the option to access developer options. This is a hidden menu that contains a myriad of options to customize your phone in depth. They are thus not the prerogative of hackers even if they must be handled with care to avoid harming your personal data and the security of your device.
What are developer options for?
The developer options allow you to make extensive changes that you could not implement from the classic settings menu. The mode notably allows you to force the activation of the dark mode. You can also enable USB debugging to allow a computer to rush into your operating system. This allows you, for example, to open the broken screen of your smartphone on a PC.
Here are some options included in developer mode that are likely to interest ordinary people:
Block standby
Wireless debugging
Configure graphics driver
Hardware acceleration for tethering
Disable Bluetooth absolute volume
Configure visual indicators when you tap the screen
Changing window and transition animation scales
Debug GPU conflicts
Limit background processors
Allow multi-window for all apps
Read > Android 13: new features, compatible smartphones, release date, all the information
How to enable developer mode
Enabling developer mode is easy. For this tutorial, we used a Samsung Galaxy A52s 5G. Be aware, however, that the steps may vary very slightly depending on the overlays used.
Open the menu of settings.
Go to the section About phone usually located at the bottom.
Click on Software Information
Press seven times Version number (or MIUI Version, Build Number).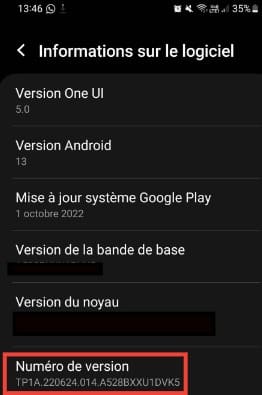 On some overlays, you will be asked to enter your code.
The mode is now activated. You will be able to access the developer options by clicking on the newly appeared tab at the very bottom of the main settings menu.