Do you need to access the interface of your Internet box for various settings, such as changing your Wi-Fi password, changing DNS or checking the devices currently connected to your network? Here's how to access the administration of your box.
If you want change your Wi-Fi password, change the name of your box or any other parameter, you will need to connect to your router (box). In 2022, many routers still require you to use a web browser to make some of these changes, so you might as well know how.
You will almost certainly need the router admin password. It should be printed on a label located on the back of your box. If you can't access your router over Wi-Fi for some reason, connect an Ethernet cable between your router and a PC or laptop.
To read: Comparison WiFi 6 vs. WiFi 5: should you buy a WiFi ax router in 2022?
How to access the interface of an Orange, Sosh, SFR or RED by SFR box?
Here is an IP address to remember: 192.168.1.1. This IP address normally allows you to access the management interface of most boxes at Orange, Sosh, SFR and RED by SFR. Here's how to use it.
Connect to your Wi-Fi network or connect your Ethernet cable to your PC, Mac and your box.
Go to the Internet using your browser (Safari, Firefox, Edge, Chrome, etc.), then, in the address bar of the web browser, copy and paste 192.168.1.1. Press Enter.
How to access the interface of his Orange box?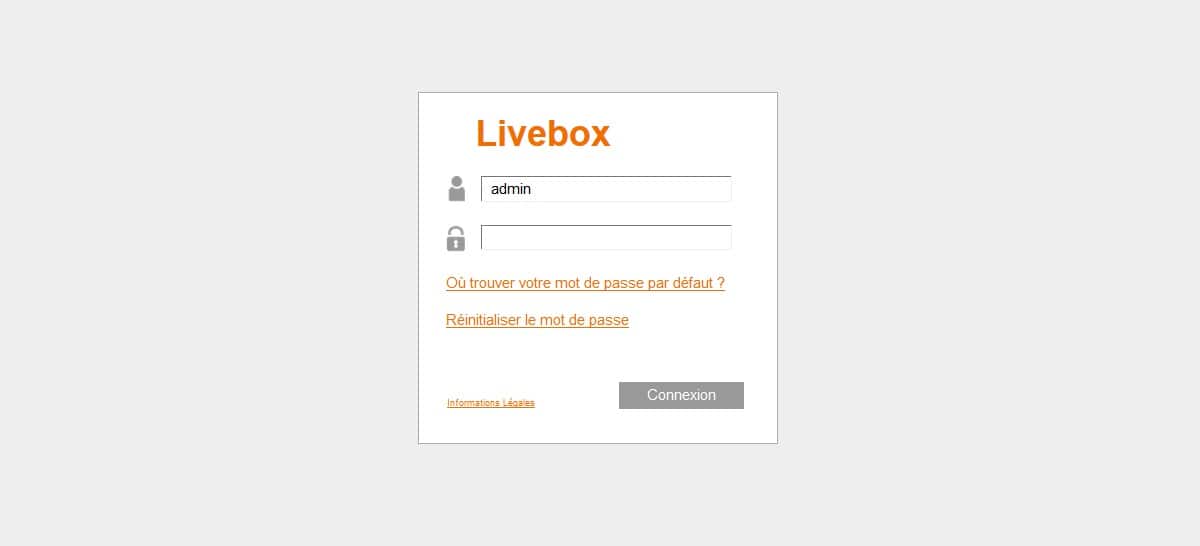 To access the interface of a Livebox 4, Livebox 5 or Livebox 6 if you are at Orange, here is how to proceed.
Enter address 192.168.1.1 or http://livebox/ in the address bar of your favorite web browser.
Enter the administrator name. If it has never been changed, it is admin by default.
Enter the first eight characters of the default Wi-Fi security key. It is located on the back of your Livebox.
How to access the interface of his Free box?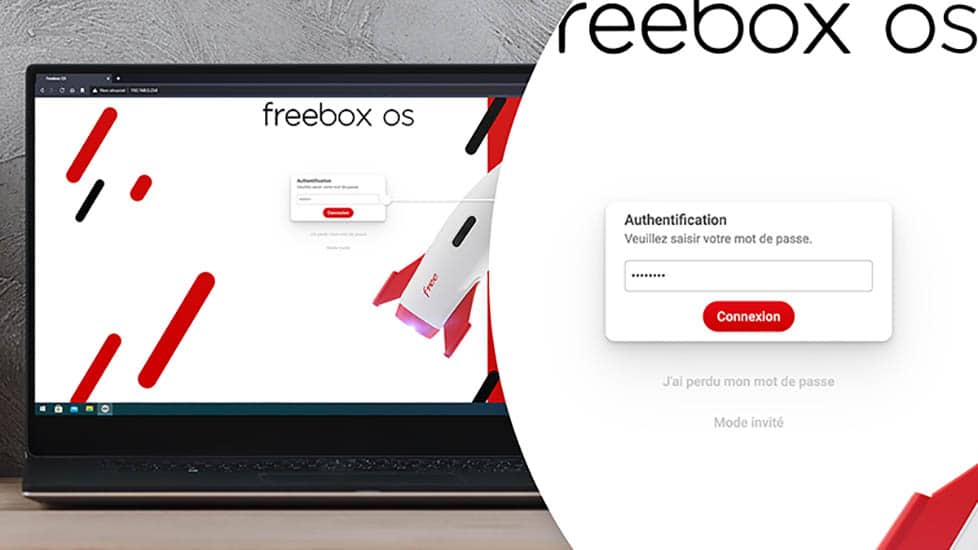 To access the interface of a Freebox if you are at Free, here is how to proceed.
Enter address mafreebox.freebox.fr in the address bar of your browser then validate.
Click on First connection.
Press the right arrow on the display of the Freebox unit which will display a security message.
Set a password that will be associated with your Freebox OS account.
Login and click Connexion.
How to access the interface of your Bbox box?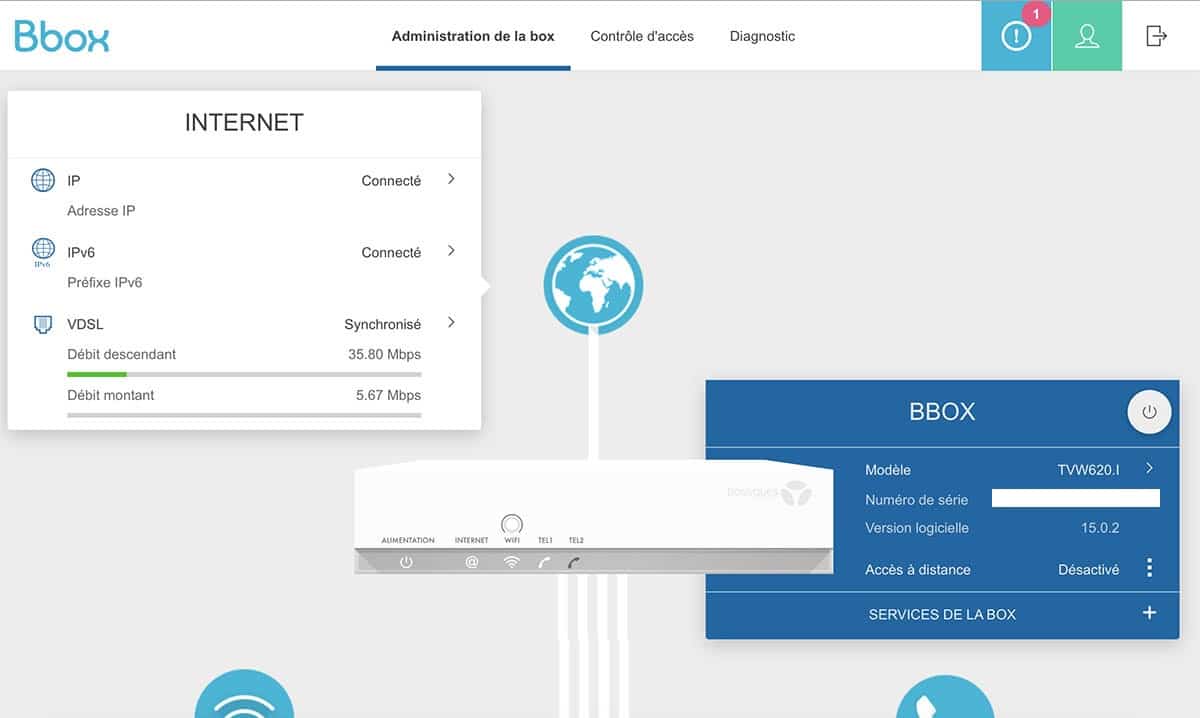 Whatever the model of your Bbox, the interface connection process is the same. Here's how.
Enter address https://mabbox.bytel.fr from a web browser or enter the IP address 192.168.1.254.
If this is a first connection, click on the Begin installation button to configure the box and the password. If this is not a first connection, you will need to enter your password.
How to access the interface of your SFR box?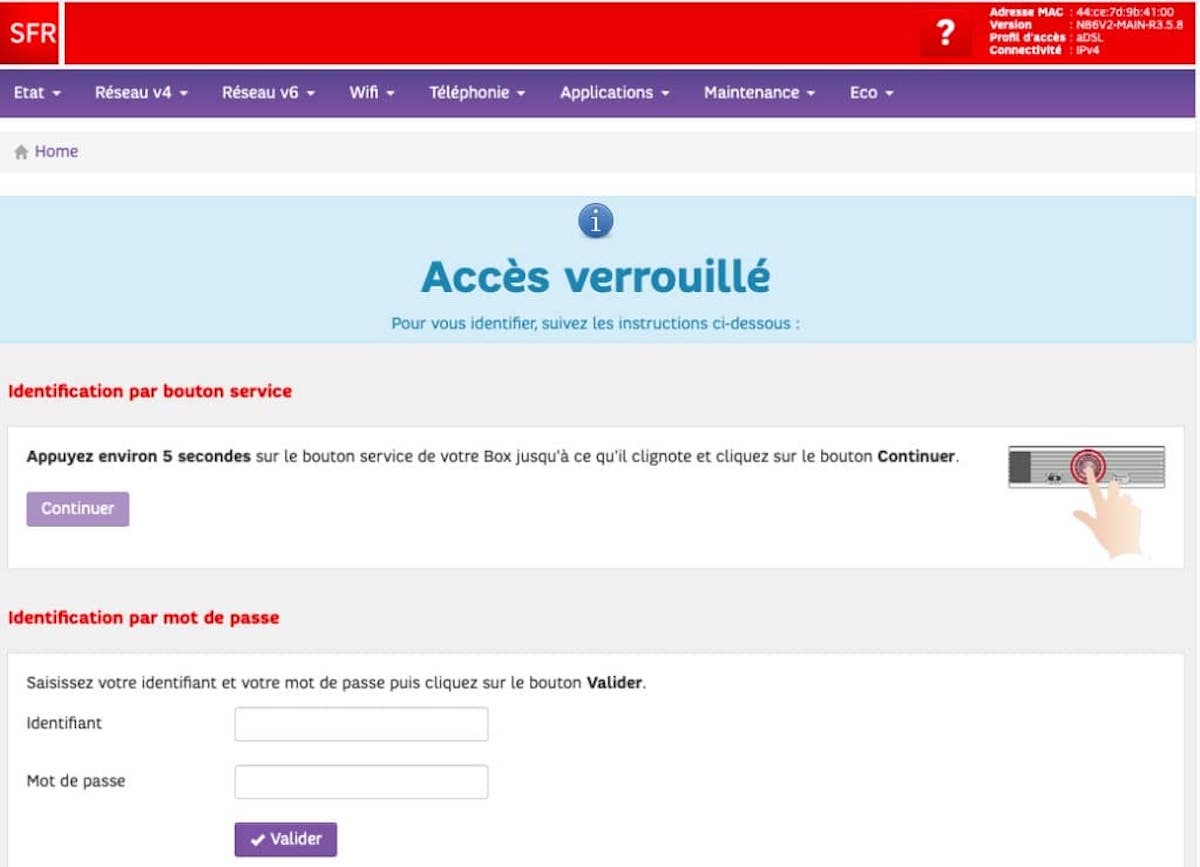 The method differs slightly depending on the SFR box you are using. Here is how to access its interface:
Enter address http://monmodem or 192.168.1.1 or 192.168.0.1 in the address bar of a web browser.
Click on Maintenance then Administration. On some models this may vary.
If asked, press the service button on the box for 5 seconds to confirm your access.
To read: Wi-Fi network: how to improve your connection and speed?
Why access the interface of my box?
Here are some of the reasons why you might want to access your router's interface. The security settings update, already. There are several security settings related to your Wi-Fi network that are administered through the router. If you fail to keep your network secure, your network and your users will be vulnerable to the havoc that can be wrought by a unauthorized access or malware infection.
Three different settings combine to provide a secure wireless network and they can all be changed from the router:
Change password : This is the password required to access the router. All routers have a default password which you should change as soon as possible to prevent unauthorized access.
Change Wi-Fi Password : Users must enter this password to access the network. It may have been configured when the network was installed, but over time there are various reasons why you may want to change it to maintain security and control over your Internet subscription.
Security Mode : This is where you decide what level of security you will use to protect your network. You should always choose to use at least the WPA2 level to maintain a secure network.
Changing network settings : There are a number of network settings you may want to change:

The network name : This is the name users will see when they search for a network to connect to. You can change it to make it more obvious if there are competing WiFi networks in the area. You can also choose to hide the SSID, which means the name must be known to users in order to access it.
The canal : You can select the channel your Wi-Fi network uses to transmit data to connected devices. Some routers can be configured to automatically find the most appropriate channel. The result of a network scan may indicate that you need to change Wi-Fi channels to improve performance.
Other settings : Depending on the make and model of your router, there may be a variety of other settings and options accessible through the router. Some routers will let you connect external storage to use on the network or apply parental controls to limit access for certain devices for set periods of time. Check the documentation for your particular device to see what features it offers you.
The network administrator is strongly advised to ensure that the router is not open to anyone. The only information most users will need regarding the Wi-Fi network is the password to access it, but that's it.
To read: How to speed up and secure your Internet connection by changing DNS?
What should I do if I cannot access the interface of my box?
There may be times when you need access to a router to make important changes, but you don't have the password. If so, the solution is to reset the router. Every router will have a reset button somewhere that is meant to be used in this type of situation. Refer to your box's user manual to find it.
Hold reset button pressed for about 10 seconds to reset most routers to original factory settings. This means that you can now access it using the manufacturer's default password. This password is generally located on the label located on the box, or on one of the documents supplied with it.
Be aware that all your settings will return to their default values. It may take a bit of work on your part to reconfigure the router. Be sure to check the security associated with your network if you ever need to resort to this tactic to gain access to your router.