CNN
—

An unidentified object was shot down over northern Canada on Saturday, marking the third time in a week that US fighter jets have taken down objects in North American airspace.
On Friday, an unidentified object was shot down in Alaska airspace by a US F-22, and last weekend, a Chinese surveillance balloon was taken down by F-22s off the coast of South Carolina.
There's no indication at this point that the unidentified objects have any connection to China's surveillance balloon but it seems that national security officials across the continent remain on edge.
On Sunday, the Federal Aviation Administration briefly restricted some airspace over Lake Michigan near Wisconsin for "national defense airspace." The FAA made similar flight restrictions ahead of the operations to shoot down the spy balloon and the unidentified object over Alaska.
"The FAA briefly closed some airspace over Lake Michigan to support Department of Defense activities. The airspace has been reopened," the FAA said in a statement Sunday afternoon.
Neither the North American Aerospace Defense Command (NORAD) nor the FAA said whether an object had been detected over Lake Michigan during the operation.
Airspace was also briefly closed over Montana on Saturday evening before being quickly reopened after a radar anomaly prompted a jet to investigate before the all-clear was given.
Here's what we know so far:
A US official said Sunday there has been caution inside the Biden administration on the pilot descriptions of the unidentified objects shot down over Alaska and Canada due to the circumstances in which the objects were viewed.
"These objects did not closely resemble and were much smaller than the PRC balloon and we will not definitively characterize them until we can recover the debris, which we are working on," a National Security Council spokesperson said, referring to the suspected Chinese spy balloon.
Deputy Pentagon press secretary Sabrina Singh also noted the difference between the incidents.
"These objects shot down on Friday and Saturday were objects and did not closely resemble the PRC balloon. When we can recover the debris, we will have more for you," she said Sunday
Earlier Sunday, Senate Majority Leader Chuck Schumer told ABC News that he was briefed on the object by White House national security adviser Jake Sullivan and that the object shot down over Canada was likely another balloon – as was the high-altitude object downed over Alaska on Friday.
On Saturday, Canada's chief of defense staff, Gen. Wayne Eyre, also made mention of a "balloon" when describing instructions given to the team that worked to take down the object.
The unidentified object that was shot down in Canadian airspace had been tracked since Friday evening, according to a statement from Pentagon spokesman Brig. Gen. Patrick Ryder.
The object was detected by NORAD, and two F-22 fighter jets from Joint Base Elemendorf-Richardson, Alaska, were sent up to monitor the object with the help of the Alaska Air National Guard.
Analyst thinks this is why more unidentified objects are being spotted
The object appears to be a "cylindrical object" smaller than the Chinese surveillance balloon that was shot down previously, Canadian Defense Minister Anita Anand said at a news conference on Saturday.
"Monitoring continued today as the object crossed into Canadian airspace, with Canadian CF-18 and CP-140 aircraft joining the formation to further assess the object," Ryder's statement said.
Eyre said Saturday that "the instructions that were given to the the team was whoever had the first best shot to take out the balloon had to go ahead."
US President Joe Biden and Canadian Prime Minister Justin Trudeau both approved the shoot-down on Saturday, according to a statement from the White House.
"President Biden authorized US fighter aircraft assigned to NORAD to conduct the operation and a US F-22 shot down the object in Canadian territory in close coordination with Canadian authorities," the White House statement said. "The leaders discussed the importance of recovering the object in order to determine more details on its purpose or origin."
The object was shot down with a AIM-9X missile from a US F-22 – the same missile and aircraft that shot down an unidentified object on Friday, and the Chinese surveillance balloon on February 4.
"The object was flying at an altitude of approximately 40,000 feet, had unlawfully entered Canadian airspace and posed a reasonable threat to the safety of civilian flight. The object was shot down approximately 100 miles from the Canada-United States border over Canadian territory in central Yukon," she said.
Ryder's statement said that while Canadian authorities conduct recovery operations, the FBI will be "working closely with the Royal Canadian Mounted Police."
Saturday's takedown of an unidentified object is the third such incident in one week.
On Friday, an unidentified object was shot down by a US F-22 over Alaskan airspace after it had been monitored by the US since Thursday evening.
Pilots gave different accounts of what they observed after coming near the object, a source briefed on the intelligence told CNN; some pilots said it "interfered with their sensors," but other pilots said they didn't experience that.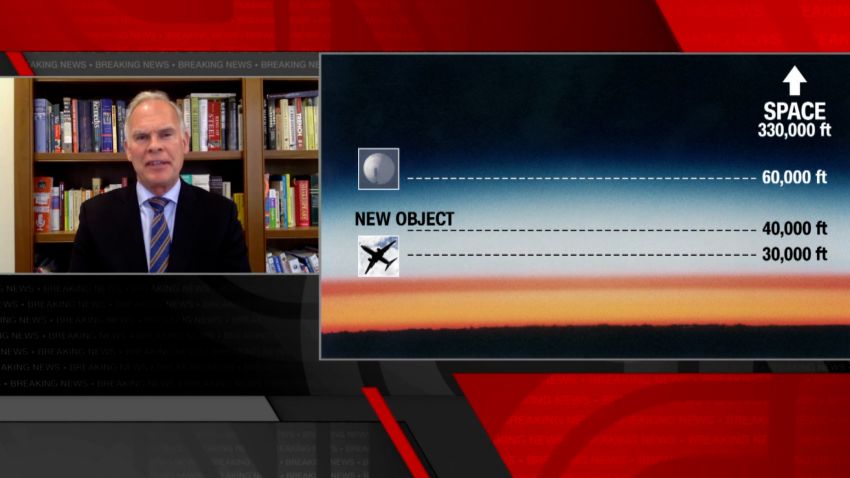 Retired colonel on what he believes 'high-altitude object' in Alaska could be
The object was flying at 40,000 feet, which made it a risk to civilian traffic. That set it apart from the Chinese surveillance balloon, which was traveling "well above commercial air traffic," Ryder said at the time.
Republican Sen. Dan Sullivan of Alaska said Friday, after the unidentified object was shot down over his state, that similar objects have been spotted over Alaska in recent weeks, the Alaska Beacon reported.
"There were things that were seen on radar but weren't explained," the Senate Armed Services Committee member told the publication.
The Chinese balloon was shot down off the coast of South Carolina last Saturday after traveling across the US. Biden administration officials said it posed little intelligence gathering and military risk.
It did, however, pose a risk to people and property on the ground if it were to be shot down, as officials said it was roughly 200 feet tall and the payload weighed more than a couple of thousand pounds.
The US military is still working to recover debris from the balloon on the ocean floor. Ryder said Friday that they have "located a significant amount of debris so far that will prove helpful to our further understanding of this balloon and its surveillance capabilities."
Notably, the US intelligence community's method to track China's fleet of surveillance balloons was only discovered within the last year, six people familiar with the matter told CNN.
The findings have allowed the US to develop a consistent technical method for the first time, which they have used to track the balloons in near-real time across the globe, the sources said.
Lawmakers on Capitol Hill met the news of further objects shot down with a range of responses Sunday.
House Intelligence Committee Chairman Mike Turner told CNN that the Biden administration does appear "somewhat trigger-happy, although this is certainly preferable to the permissive environment that they showed when the Chinese spy balloon was coming over some of our most sensitive sites."
"What I think this shows, which is probably more important to our policy discussion here, is that we really have to declare that we're going to defend our airspace. And then we need to invest," the Ohio Republican said. "This shows some of the problems and gaps that we have. We need to fill those as soon as possible because we certainly now ascertain there is a threat."
Turner's Democratic counterpart on the Intelligence panel, Connecticut Rep. Jim Himes, told NBC's "Meet the Press" that he had "real concerns about why the administration is not being more forthcoming with everything that it knows," before adding, "My guess is that there's just not a lot of information out there to share."
Schumer, meanwhile, said Congress needs to investigate why it took so long for the US to catch on to the Chinese government's use of spy balloons.
"I do think (Democratic Sen. Jon Tester of Montana) is looking into why it took so long for us, our military, our intelligence, to know about these balloons. That's something I support. Congress should look at that. That's the question we have to answer," he said. "I think our military, our intelligence are doing a great job, present and future. I feel a lot of confidence in what they're doing. But why, as far back as the Trump administration, did no one know about this?"
Tester said the military is still investigating after reports of a radar anomaly Saturday night led to a shutdown of airspace over Montana.
When asked by CBS News if the reported aerial anomaly was a false alarm, Tester said that "the investigation is still going on as we speak" and that "there may still be something up there. It may be a false alarm."
NORAD declined comment to CNN regarding Tester's comments Sunday but pointed to its statement from Saturday night about nothing being found over the skies of Montana.
Also Sunday, Rep. Michael McCaul, the chair of the House Foreign Affairs Committee, said he remains unconvinced by assertions from the intelligence community that he suspected Chinese spy balloon did not seriously damage US national security during its flight across the country.
"They say they mitigated it, but my assessment – and I can't get into the detail of the intelligence document – is that if it was still transmitting, going over these three very sensitive nuclear sites, I think if you look at the flight pattern of the balloon, it tells a story as to what the Chinese were up to, as they controlled this aircraft throughout the United States," the Texas Republican told CBS News.
This story has been updated with additional information.