Today, you'll find a deal on a Zwilling knife block seta discounted Philips Hue lightstrip and savings on household essentials at Amazon. All that and more below.
$598 From $430 at Woot!
Practical technology and interior design can sometimes feel at odds, but with The Frame TV, integration is seamless. The latest model comes with an anti-glare coating to not only make watching movies and shows more enjoyable but also better show off a library of digital art and a choice of magnetic frame when you're not watching TV. Right now Woot! is offering six sizes of this cult-favorite television up to 31% off the list price.
Owner Rewards Savings Event
Dyson
It's no secret that Dyson makes some seriously stylish (and powerful) appliances, whether we're talking dust-busting vacuums, air-cleaning purifiers or salon-quality hair tools. If you've already jumped on the Dyson train — and, perhaps, are looking for a reason to justify treating yourself to another item from the brand — you're in luck. Right now Dyson is hosting its annual Owner Rewards Savings Event, meaning those who already own a Dyson machine can get 20% off another of their choice.
When you're seeking out knives that are super sharp, durable and ergonomic and that will last a lifetime, consider this standout, the eight-piece version of our runner-up pick for the best kitchen knife set. Complete with a chef's knife, paring knife, serrated utility knife, prep knife and bread knife, plus shears, a sharpening steel and a 16-slot hardwood bamboo block, it received excellent scores on performance and quality in our testing.
Philips Hue
Philips Hue is considered by many to be the gold standard of smart home lighting, and right now you can save on an outdoor lightstrip from the splurge-worthy brand. A backlit sofa or guiding garden path lights add elegance to any space. This strip, now seeing its lowest price ever, offers 7 feet of flexible, adjustable lights in any color, so you can customize your space exactly how you want it.
Spend $80 on select products and get $20 in Amazon credit
Walmart
Right now you can save on tons of household essentials, thanks to this Amazon offer. Everything from diapers to paper towels, dental floss to laundry detergent and more is part of the promo, where you'll get a $20 Amazon credit when you spend $80 on participating P&G items.
• Right now at Chewyyou can pamper your pets for less, thanks to this BOGO 50% off Valentine's Day toys, treats and decor. Use code LOVE to save.
• Today only, Woot! is offering a deal on Tytan magnetic tilesa colorful toy fit for any budding architect or builder.
• This discounted Nanoleaf Lines set means you can customize your lighting for less.
• Save on these gorgeous 3D-printed lamps from Wooj Design right now.
• The powerful Dyson V8 Motorhead vacuum is majorly discounted at eBay — under $200 in certified refurbished condition.
• Gamers can save almost $200 on a PS5 Console right now at eBay.
• This Sengled TV backlightnow over half off, provides moody LED illumination whether it's movie night or game day.
• Get 40% off everything and an extra 60% off sale items right now at Gap.
• Get 25% off immersive sound systems from Bose during the brand's Big Game Sale.
• Right now at Coach Outletwhen you buy two jewelry and watch styles you'll get 20% off your purchase.
Buy a bra, get 25% off underwear packs
Cuup
Cuup bras promise minimalist design, modern colorways and seamless fit; the brand's mission is to "redefine the way bras look and feel." After testing the bras ourselves, we're on board with these high-quality, lightweight intimates too. Right now, you can save on a matching set — buy a bra and get 25% off underwear packs through the end of the month. This is a great opportunity to invest in some new pieces for less.
$430 $300 at eBay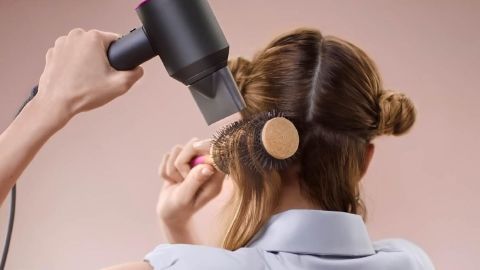 Dyson
In addition to making your floors spotless, Dyson is a pro at styling your strands with its range of hair tools. And right now, you can snap up a refurbished Dyson Supersonic Hair Dryer for about $300, sold through Dyson at eBay and complete with a two-year warranty. Normally, these dryers go for $430, so be sure to add one to your own hair care arsenal before this rare discount ends.
$250 $150 at Amazon
Upgrade your smoothie game with a top-of-the-line Vitamix blender, now at an all-time-low price. The Vitamix One is a great streamlined option featuring simplified operation and requiring less counter real estate. It's rare to see a brand-new Vitamix under $200, let alone beating Black Friday discounts, so if you've had your eye on this kitchen game changer, now's the time to buy.
Anniversary Sale
Sheertex
Sheertex's unbreakable tights have reached cult status for their extreme durability, and now you can shop a bunch of its bestsellers for up to 60% off. From minimalist classics to colorful shapewear to patterned stockings, these tights promise to be a pair that'll last more than a season. Shop this sale now before it ends and get the Classic Sheer Rip-Resist Tights for just $35, the lowest price we've seen.