Bluetooth LE Audio is set to revolutionize the way we listen to music. A great new feature of the Bluetooth LE Audio standard, Auracast music sharing allows the same audio stream to be broadcast to several speakers, headphones or earphones. Bluetooth LE Audio also introduces a new reference codec, the LC3, which consumes little energy and is compatible with 5.1 multichannel sound. Features, benefits, applications, we explain everything about Bluetooth LE Audio.
More than two decades after its creation, the Bluetooth standard is on the way to undergoing a major evolution and freeing itself from numerous constraints. The lock on connecting to a single audio device for music playback is about to break, as is the inability to make calls while listening to music. And this, thanks to the Bluetooth LE Audio standard.
What is Bluetooth LE Audio?
It is a complete rewrite of the way of transmitting sound offered by the Bluetooth LE Audio standard. Introduced with Bluetooth 4.0 controllers in 2010, Bluetooth Low Energy (LE) technology has, until now, never been used for transmitting sound, but only for transmitting small amounts of data, from a connected bracelet to a smartphone for example, or to control certain features of wireless headphones and earphones. Thus, the transmission of sound has always been the prerogative of the classic Bluetooth radio link (Bluetooth Classic Audio), via the A2DP (Advanced Audio Distribution Profile) profiles for music and HFP for telephone calls.
Go beyond the limits of classic Bluetooth in audio
Although it has evolved over the years and revisions, the Bluetooth Classic Audio standard retains an architecture thought over 20 years ago, at a time when the primary need was to pair a wireless headset with a smartphone, to make hands-free audio calls. Thus, the HFP profile (Hand Free Profile) of Bluetooth Classic still uses a low quality audio compression technology, unsuitable for streaming music in hi-fi conditions.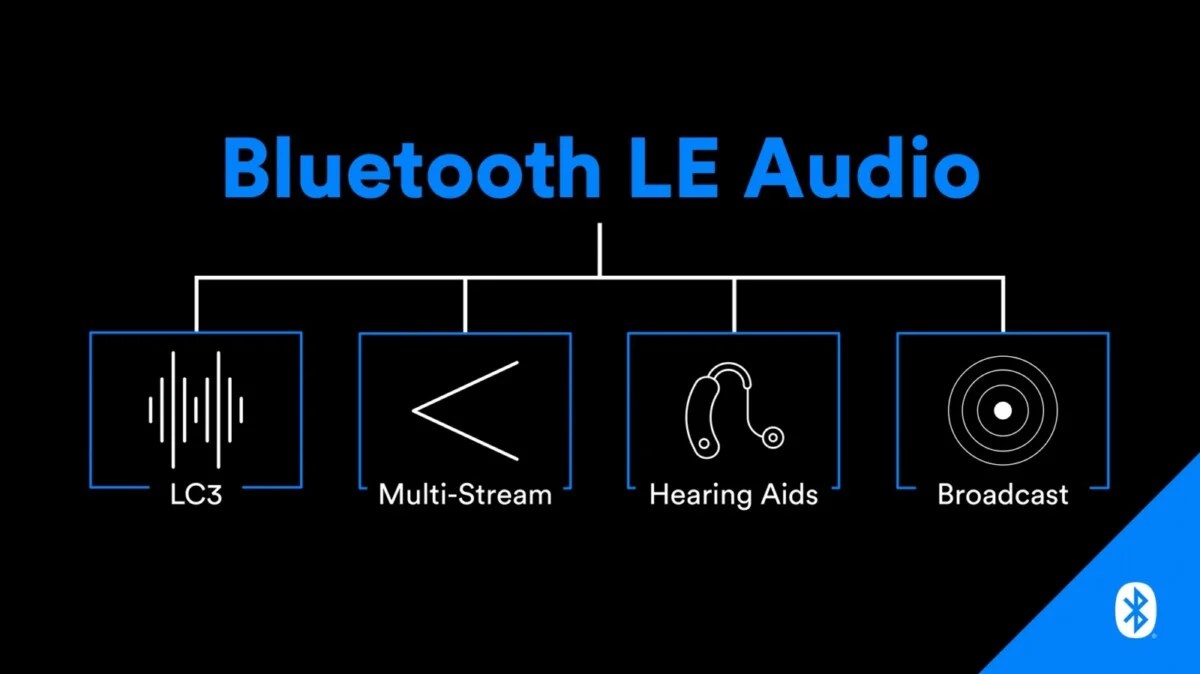 As for the A2DP profile, subsequently developed for music listening – and which uses the famous SBC, AAC, aptX or even LDAC codecs – it suffers from a major defect: it is unidirectional. It is therefore impossible to use the microphone of a Bluetooth headset to make a call, nor to use the voice assistant of a smartphone while listening to music. It is also impossible to stream music via Bluetooth Classic to several headphones, earphones or speakers. With the Bluetooth LE Audio standard, all this will change and it will finally be possible to play with Bluetooth headphones or earphones.
What are the new features of Bluetooth LE Audio?
The technology Auracast is the great novelty of the Bluetooth LE Audio standard. Auracast allows music to be broadcast to several devices simultaneously (speakers, headphones, earphones, hearing aids, etc.). To do this, simply activate the sharing of the current reading, possibly accompanied by a password to secure access. Auracast thus opens up new possibilities for listening to audio content in public places, in particular museums where listeners can use their own headphones or earphones without tedious pairing. The integration of Auracast technology into televisions should also make it easier to distribute sound to multiple users, especially those equipped with compatible hearing aids. For the latter, the ability to easily connect to many audio sources could bring a lot of convenience.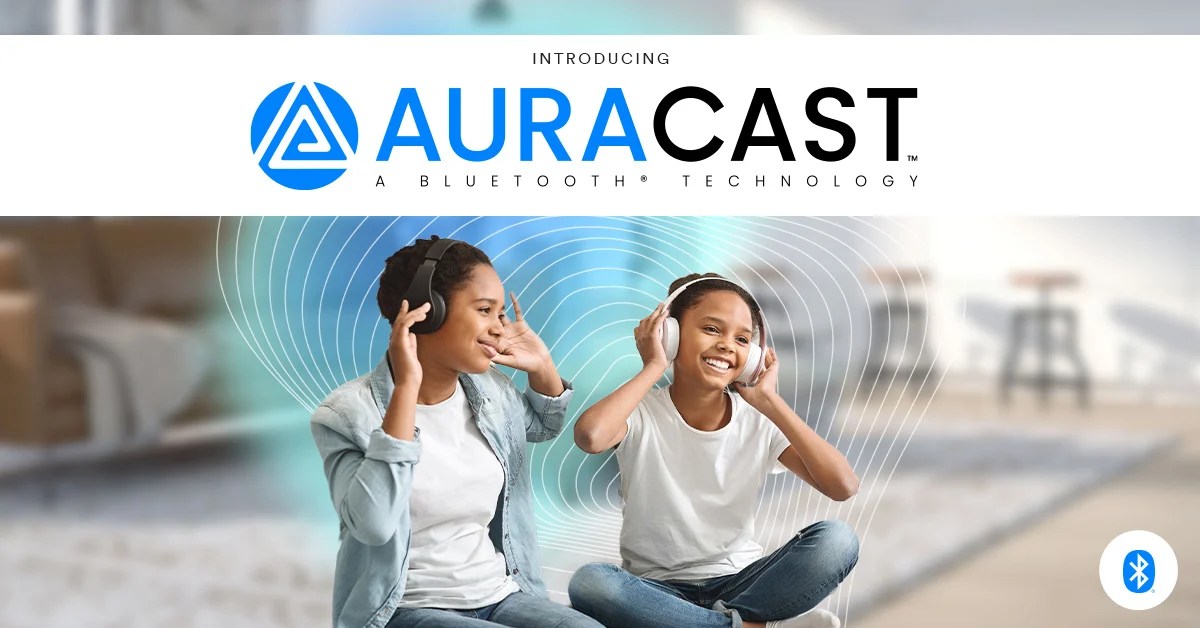 Simultaneous streaming to multiple Bluetooth audio receivers, called Multistream Audio, could also impact the operation of the True Wireless headphones. In classic Bluetooth, the stereo audio signal is sent to one of the headphones, which transmits to the other the channel that it must broadcast. This has the consequence of inducing an additional latency in the diffusion of the sound, while being energy-consuming. More flexible in its operation, Bluetooth LE Audio allows a smartphone to send each earpiece the channel it needs to broadcast, which reduces latency and necessarily reduces the energy consumption of the earphones.
Bluetooth audio goes multi-channel
The Bluetooth LE Audio standard also brings compatibility with 5.1 multichannel sound. Until now, classic Bluetooth only allowed the transmission of sound in mono or stereo. Now an amp home cinema or a sound bar compatible with Bluetooth LE Audio will be able to receive a multi-channel track and broadcast 5.1 surround sound. This new feature opens up the possibility of using several LE Audio Bluetooth speakers to compose a small home cinema system, by indicating to the Bluetooth source which speaker is located on the left, in the center, on the right, behind you and even which one should act as subwoofer. If Netflix and others play the game, just like Apple Music with its catalog of titles in Dolby Atmos 5.1it could dramatically change the way we listen to music, movies and TV shows.
The LC3 codec at the heart of Bluetooth LE Audio
The Bluetooth LE Audio standard introduces a new codec audio Bluetooth appointed LC3 (Low Complexity Communication Codec), which must be integrated into BT LE Audio certified smartphones and audio devices. According to the Bluetooth SIG (Special Interest Group), the LC3 codec offers excellent sound quality, superior at the same bit rate as the SBC (Sub Band Codec) codec of Bluetooth Classic. Developed by the Fraunhofer IIS institute (the inventor of MP3) and Ericsson, the LC3 codec would make it possible to obtain premium sound with a data rate ranging, depending on the encoding profiles, between 160 kbps and 250 kbps for streams audio sampled at 48 kHz (movies, series, videos) and approximately 200 kbps for audio streams sampled at 44.1 kHz (music). These rather low bit rates make it possible to limit energy consumption during radio transmission.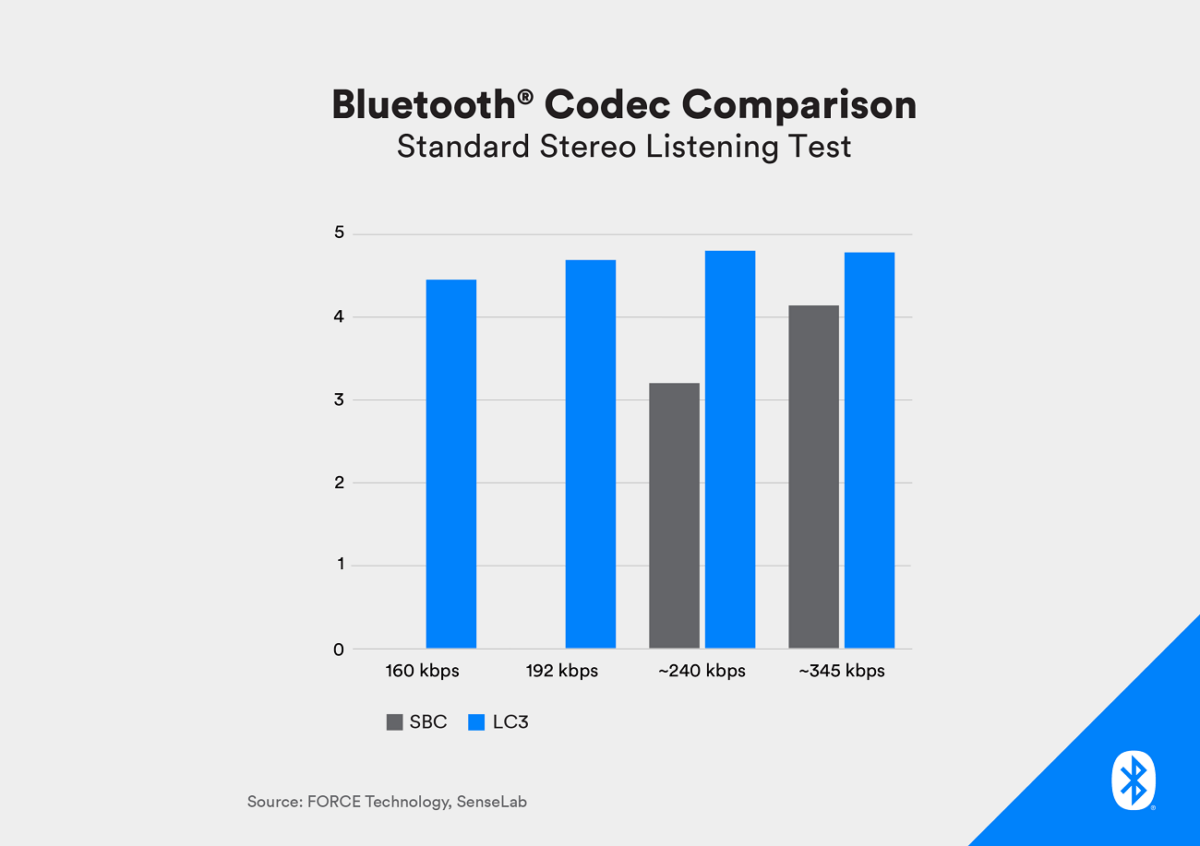 Let's be clear, there will be no qualitative revolution, most competing codecs (aptX, AAC, etc.) offering similar bit rates and already very good sound quality. In addition, the LC3 codec also uses deteriorating compression, which removes certain sounds deemed inaudible, attenuates high frequencies and globally reduces the dynamic margin.
Bluetooth LE Audio, compatible aptX HD ou LDAC
If the Bluetooth SIG has made the LC3 codec mandatory for Bluetooth LE Audio, the organization does not exclude that other codecs are used by manufacturers. We can therefore imagine that the AAC codecs from Apple, aptX from Qualcomm or LDAC from Sony will eventually be implemented in smartphones, headsets and Bluetooth LE Audio speakers. With a useful bandwidth of around 1 Mbps — the same as conventional Bluetooth — Bluetooth LE Audio could enable CD-quality stereo transmission, with the codec aptX Lossless for example.
Remember, however, that the quality of the sound broadcast by headphones, earphones and loudspeakers depends mainly on the quality of the loudspeakers used and the associated amplifier. A headset equipped with poor quality transducers, even if powered by an audio signal losslesswill still sound (much) worse than a high-performance headset streaming heavily compressed audio.
Better audio quality for calls
Bluetooth LE Audio provides better support for calls in VoLTE (Voice over LTE), i.e. in hi-fi quality on 4G and 5G networks. So far, the HFP profile of classic Bluetooth and its prehistoric codec significantly degraded the quality of calls with headphones or earphones. With Bluetooth LE Audio, the LC3 codec will now be used. As a result, the listener will enjoy much better sound for phone calls in general, and VoLTE calls in particular. In the same way, the interlocutor will hear better, since the sound of the microphone integrated into the helmet will now be compressed in LC3.
Lower latency… or not
The Bluetooth SIG claims that the LC3 codec significantly lowers audio streaming latency. In other words, the lag between the image and the sound broadcast via Bluetooth would be reduced thanks to the new codec. According to the organization, the encoding, radio transmission and decoding time would be only 20 milliseconds, a value low enough not to be noticeable. However, this performance is correlated with low data rate and poor QoS (Quality of Service), in other words, highly compressed audio and minimal connection stability. It's a safe bet that most manufacturers of audio devices will opt for high QoS, i.e. a stable Bluetooth connection with buffering of the received data, in order to avoid artifacts and playback interruptions, especially in radio environments. – disturbed frequencies (public places, public transport, etc.).
Thus, the 20 ms announced could double or triple. In addition, the audio post-processing carried out after reception of the audio data (equalization, ANC, etc.) will increase the latency a little further. In short, the latence audio en Bluetooth seems to be a fatality to which we must resolve, especially since it only really impacts video games. The reading of films or series is already subject to an audio-video synchronization correction upstream.
Bluetooth LE Audio: Power Consumption and Coverage
Since the launch of Bluetooth LE, the argument of low power consumption has been systematically raised. However, this energy sobriety must be brought closer to the concrete applications of Bluetooth LE. Indeed, the occasional activation of the Bluetooth controller and the transmission of a few bytes from a connected bracelet, require infinitely less energy than the continuous sending of audio data streams, which can represent tens or hundreds of megabytes, during long streaming listening sessions. In other words, it is by no means certain that Bluetooth LE Audio, at a comparable data rate, consumes less energy than Bluetooth Audio Classic.
As for the radio coverage of Bluetooth LE, it is identical to that offered by classic Bluetooth. Thus, depending on the class of the device, the range can vary from 10 to a maximum of 100 meters. These figures should obviously be taken with caution, as the presence of obstacles (partitions, floors, objects, etc.) and radio-frequency disturbances (computers, smartphones, WiFi routers, etc.) can reduce coverage.
Which Bluetooth LE Audio compatible smartphones, headphones and earphones are there?
If it seems certain that new smartphones, computers, headphones and headsets will be marketed in the future with Bluetooth LE Audio support, it will certainly be necessary to be patient. Currently, no operating system, Android and iOS in the lead, supports Bluetooth LE Audio.
For Android, this could come with version 13 of the OS, while Apple hasn't announced anything for iOS or Mac OS at this time. As for helmets, headphones or speakers, it's nothing, despite the availability of certified chips, in the Qualcomm catalog for example. As for headphones and earphones that already have a Bluetooth LE chip, to manage advanced settings from the smartphone (ANC power, equalization, key programming, etc.), the deployment of firmwares to support the LC3 codec and Auracast seems technically feasible. The user would also have everything to gain.
It remains to be seen whether the manufacturers will play the game or whether it will be necessary to equip themselves with new smartphones, helmets, earphones or speakers to take advantage of Bluetooth LE Audio and Auracast broadcast sharing. To be continued…
---
To follow us, we invite you to download our Android and iOS app. You can read our articles, files, and watch our latest YouTube videos.