With the increase in the price of the subscription to Amazon Prime (6.99 euros per month or
69.90 euros per year) some subscribers seek to unsubscribe from the service. How do I cancel my subscription? We explain to you.
Amazon offers two plans for its Prime subscription which gives access to many services such as Prime Video, Prime Music, Amazon Photos and deliveries in one working day. Still, if you have arrived on this page, it is because you want to end it.
A divorce which can also be the consequence of the increase in the prices of the service. Since September 15, 2022, the price of the monthly subscription to Amazon Prime has increased from 5.99 to 6.99 euros. The price of the annual subscription has risen to 69.90 euros instead of 49 euros.
How do I unsubscribe from Amazon Prime?
If you opted for the monthly subscription when you interrupt your subscription, you will only have to pay for the current month. Note that if you are still in the free trial period, you will not have to pay anything.
Log into your Amazon account and click this link.
Sous Subscriptionclick on Update, cancel and more.
Then click on End Trial or Benefits if you are on a trial period or on the small box located under End subscription.
Then follow the different steps. Amazon will ask you to confirm several times if you really want to cancel the subscription.
To read: Amazon Prime: prices, advantages, account sharing, we tell you everything
What happens if I cancel my Amazon Prime subscription?
If you have chosen the annual subscription, the contract that binds you to Amazon Prime is automatically renewed on each anniversary date. To interrupt it, three scenarios exist.
You are still in the free trial period. Just follow the above mentioned steps to end your subscription. Note that Amazon also gives the option of receive a reminder by email three days before the end of your trial period in the section Subscription. You can then continue to receive your Amazon Prime benefits until the end. After receiving the reminder, you will only have to confirm the unsubscription.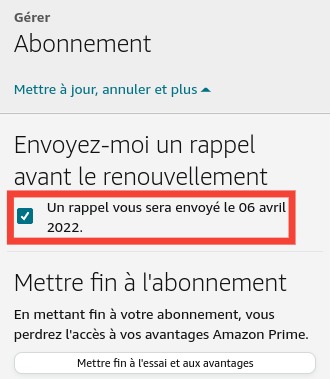 You have exceeded the trial period, but you have not used any of the Amazon Prime services. In this case, you can cancel your registration as explained above. You will then be fully refunded.
You have exceeded the trial period and used Amazon Prime services. In this case, you cannot claim a full refund. Nevertheless, Amazon specifies in its general conditions that a partial refund may be granted to you " based on the use of Amazon Prime benefits you or your guest have enjoyed so far ". After blocking the renewal, we advise you to contact Amazon in order to be supported by an advisor.
Editor's note: the right of withdrawal is of no interest in this case, because it is only 14 days while the trial period is spread over one month. The withdrawal period starts from the moment you sign the contract. 15 days before the end of the trial period.
Read: The best series to watch on Amazon Prime Video
What happens to my data if I cancel Amazon Prime?
Of course, as soon as your Amazon Prime subscription ends, you will lose access to the content, but also to all the content you may have hosted in the cloud: any books purchased from the Kindle library, your photos hosted via Amazon Photos or any other files stored in the cloud.
So make sure you have recovered all your files, because once your account is terminated, your data will be erased and can no longer be recovered.